Baltimore loses people, clout as D.C.'s Maryland suburbs grab for power
New legislative maps may cost city a senator in Annapolis
Once the cradle of Democratic politics in Maryland, Baltimore is steadily losing residents and its clout to the ever-growing and powerful Washington suburbs, a trend that likely will be reflected when new state legislative maps are released in the coming weeks.
That Baltimore could lose yet another senator in the General Assembly's 47-member chamber is no surprise, considering the city has been ceding residents and influence in Annapolis over the past 60 years.
Baltimore was once the incubator for the liberal, Democratic politics that have ruled Maryland for decades, producing four of the state's past seven governors, including Gov. Martin O'Malley, a former Baltimore mayor.
Yet the city, which went from 10 to six state senators in the 2002 redistricting, has lost roughly 30,000 residents in the 10 years since. Meanwhile, Maryland's 23 other jurisdictions, especially Montgomery and Prince George's counties, have grown, according to the 2010 census figures on which the map will be based.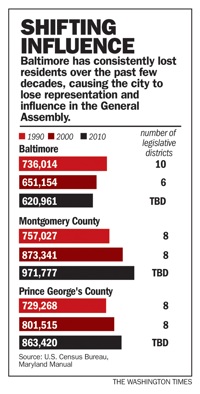 "The numbers indicate they should have five senators, and they have six people in place," said Senate President Thomas V. Mike Miller Jr., Prince George's Democrat. "That's going to be the biggest challenge."
Although Democrats show no signs of losing their grip on the governor's mansion and both General Assembly chambers, the increasing influence of Montgomery and Prince's George's counties — whose eight-district delegations outnumber Baltimore's — has resulted in a clear shift of power and priorities in the state.
Population has grown steadily in the two counties, with many new residents flocking to live in a region already bolstered by its proximity to the District's federal and contractor jobs. Development has surged in the region, and the state has tried to keep up by paying for numerous infrastructure projects — including the Intercounty Connector toll highway and the planned Purple Line light rail.
The shift in money and population has helped give Montgomery County arguably the state's most powerful delegation, boasting the Senate and House majority leaders.
Its legislators have teamed with Prince George's lawmakers to take a vocal lead on many progressive initiatives, including same-sex marriage and the Dream Act, which offers in-state college tuition to many illegal immigrants.
"There's really been a sort of somersault in terms of representation and commensurate power," said Sen. Brian E. Frosh, Montgomery Democrat who has served in the assembly since 1987. "Baltimore was the economic engine of the state 20 years ago, but Montgomery County is now."
Mr. O'Malley could present a new legislative map as early as this week, and the General Assembly will consider it during the session that begins Jan. 11. The General Assembly approved a new congressional map during its special session in October.
The governor and legislators likely will have two choices for addressing Baltimore's population decline in the new map — either cutting Baltimore's delegation from six to five districts or allowing the city to keep all six districts while extending at least one of them into surrounding Baltimore or Anne Arundel counties.
The state's current six districts are confined entirely within city lines.
Many state leaders, including Mr. O'Malley, want to keep all six districts. But constituents and legislators, including Sen. Lisa A. Gladden, Baltimore Democrat, are concerned about a reduction in responsiveness and quality of representation if city lawmakers also have county constituents.
Sen. Verna L. Jones-Rodwell, Baltimore Democrat and chairman of the city's Senate delegation, said the delegation has not agreed on an official stance, but she thinks the city would benefit from sharing representation with counties.
View Entire Story
© Copyright 2013 The Washington Times, LLC. Click here for reprint permission.
About the Author
David Hill joined The Washington Times in February 2011 as a Maryland political reporter. He can be reached at dhill@washingtontimes.com.
Latest Stories
Latest Blog Entries
Commentary
By Tom Fitton

New photos confirm the attack's coordination and its cover-up
Independent voices from the The Washington Times Communities
Politics, economics, and business from a real world perspective.
The pursuit of all that is joyous in travelling the globe is the essence of The Good Life, whether its Hawaii or the South of France.
Beaten down before, tyranny rises again, at home and abroad. America stands at the brink, as the world begins to burn. Awake to the dangers.
Television commentary, reviews, news and nonstop DVR catch-up by Lisa King Dolloff and friends.