ANALYSIS/OPINION
Army finally showed up in body as well as in spirit for Saturday's annual extravaganza against Navy, and the Black Knights' 27-21 defeat at FedEx Field could have been considered a moral victory after nine consecutive double-digit losses in the series. But we all know what moral victories are worth, so football remains a nasty word on the Plain of West Point. Or should be anyway.
What in the name of Glenn Davis and Doc Blanchard (R.I.P.) is wrong with Army's program? True, the academy doesn't admit academically challenged jocks, which obviously restricts the talent flow. Yet Navy, operating under the same restrictions, has managed to build an always respectable and often excellent program.
Consider: Over the past nine seasons, Navy's record is 75-40, Army's 30-78. Enough said.
During the early aughts, Navy was about as pathetic as Army is now, i.e. 3-30 from 2000 through 2002. But in the years since, coaches Paul Johnson (42-20 from 2003 to 2007) and Ken Niumatalolo (32-21 since) have turned matters around dramatically.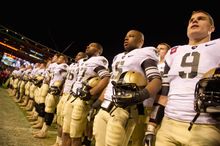 Perhaps the answer lies in continuity, a word valued highly in sports. Since 2000, no fewer than five coaches have moaned low at Army: Todd Berry (5-36 from 2000 to '03), John Mumford (0-6 in 2003), Bobby Ross (9-25 from 2004 to '06), Stan Brock (14-21 from 2006 to '08) and Rich Ellerson (15-22 since 2009).
Surely Earl "Red" Blaik, the most famous and most successful of all Army coaches (121-33-10 from 1941 to 1958), must be muttering and sputtering as he tramps along that great sideline in the sky.
Not even Ross, a proven winner at Maryland, Georgia Tech and in the NFL, was able to turn around gridiron affairs at the Point. Things have gotten so bad for Army that even Navy's Niumatalolo sympathizes.
"Of course we want to beat them every time because that's the nature of the sport," he said Sunday. "But, yeah, I do feel for those guys at Army because I know how hard they work. Unfortunately, somebody has to lose [and better the other guys than you]."
Army coach Ellerson is 58 and probably feels like he's 158. The Black Knights made significant progress a year ago, improving from 5-7 to 7-6 and beating SMU in the famous Bell Helicopter Armed Forces Bowl. Yet this season, Army slunk right back into the football dumpster at 3-9.
"Our team played really hard, Our team competed really well," Ellerson said Saturday after his troops blew a decent chance to beat Navy.
You'll notice he didn't say the Black Knights played well.
So the question lingers: Why are two service academies with similar personnel situations and standards on such dissimilar football paths? And will the lopsided nature of recent confrontations cause "America's Game" to lose luster in years to come?
"I don't know what's happened up the street at Army," said Mids athletic director Chet Gladchuk. "But at Navy, the academy has a commitment to its physical mission, not just in football but in all 32 varsity sports and intramurals. And as far as the Army-Navy football game is concerned, nothing will ever take the luster off that - no matter if Navy wins 10 or 20 in a row or Army wins 30."
Hopefully, he's right, because the Army-Navy game is what Niumatalolo calls "not just the greatest rivalry in college football but the greatest rivalry in sports."