Navy didn't produce a flawless season.
It did author an ideal finish.
Saturday's 27-21 defeat of Army at FedEx Field was the coda to the Midshipmen's first losing season since 2002. Yet the final record — 5-7, for what it's worth — didn't matter so much to the Mids as extending their dominance of the Black Knights to a full decade.
"With everything we've been through this season, this was the absolute biggest game of the year for us," fullback Alexander Teich said. "[Losing] wasn't going to happen. Not today."
On one December afternoon, the lasting legacy of a trying autumn was cemented, extending from a team savoring its 10th straight victory over its biggest rival to the individuals whose most challenging moments revolved around Navy's previous game against a service academy.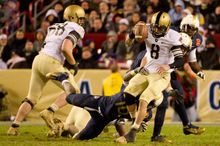 Quarterback Kriss Proctor, who drew an unsportsmanlike conduct penalty in overtime of an Oct. 1 loss to Air Force, rushed for two touchdowns and helped stitch together an 18-play drive in the second half to help Navy capture the lead for good.
Kicker Jon Teague, who missed the extra-point attempt after Proctor's penalty against Air Force and endured a generally miserable October with grace, made two field goals in the fourth quarter Saturday to cap a fine finish to his career. In his last four games, Teague was perfect on 19 kicks (four field goals, 15 extra points).
And Teich, who was suspended for a game in October after criticizing the officials for Proctor's penalty, scored a touchdown, produced a vital kickoff return to open the second half and moved into ninth on Navy's career rushing list with a stout day against the Black Knights (3-9).
"It was a fairy tale ending for us," coach Ken Niumatalolo said.
It might also serve as the start of a rebound next season as well.
Inevitably, returning players will face the scrutiny of being part of the team that saw an eight-year bowl streak — unprecedented in Annapolis — come to an end. More than seven months before the Mids report for preseason practice next summer, one of their biggest storylines is obvious.
Yet remember, Navy entered the season with only two established seniors on defense, and only three of the Mids' regular defensive starters were seniors. That unit figures to enter next season with far more polish as the result of the lessons of this season.
"It's going to be amazing," outgoing defensive end Jabaree Tuani said. "It's going to be ridiculous. We still have two freshman corners out there [Parrish Gaines and Chris Ferguson] and they did a heck of job for us this year. You think about Tra'ves [Bush] being a leader, Matt Warrick, Matt Brewer, the defensive line, you can name all these guys that are coming back. We're only losing a couple guys."
The greater questions will rest with the offense, where six of Saturday's starters (plus wideout Doug Furman, who missed the final four games with a knee injury) will depart. Of Navy's 132 starts on offense this season, players accounting for 76 of them will graduate in May.
The Mids will lose three multi-year starters on the offensive line, not to mention Proctor and Teich. Proctor's likely successor, Trey Miller, started at Notre Dame as an injury replacement. And Noah Copeland, Teich's heir apparent at fullback, was a special teams star Saturday with four tackles on kickoff coverage and a crucial forced fumble.