ANALYSIS/OPINION:
A review of the best and worst performances by the Washington Redskins' defense and some observations after re-watching the TV broadcast of their 34-27 loss to the New England Patriots.
GAME BALLS
CB JOSH WILSON:Wilson, for the most part, played tight man coverage. He also made a game-saving leaping interception in the end zone late in the fourth quarter.
In fairness, he had it much easier than CB DeAngelo Hall did. While Hall shadowed the ultra-shifty WR Wes Welker around the field, Wilson matched up mostly against WRs Deion Branch and Tiquan Underwood. Wilson covered Branch on 26 of New England's 40 dropbacks and held him without a reception. Overall, Wilson surrendered a 15-yard reception to Chad Ochocinco on third-and-15 in the first half and a 7-yard catch to Underwood in the fourth quarter — that's it. His receiver was targeted only six times. QB Tom Brady threw off target on three of those passes.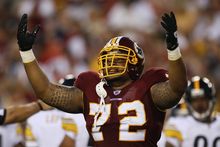 Wilson's interception with 6:30 remaining gave the Redskins a chance to win on the final drive. Maybe RedskinsWR Santana Moss should have watched the replay of Wilson's pick before blasting the officiating after the game. Underwood lined up wide left and got an inside release against Wilson. When he cut in about six yards deep in the end zone, Wilson pulled himself into position by grabbing a fistful of Underwood's jersey. It should have been a defensive holding penalty that resulted in first-and-goal for New England. Instead, Wilson made a great play to keep his team in the game. Quite a fine line there.
RDE STEPHEN BOWEN:Bowen didn't dominate, but he split a sack and helped make critical stop on third-and-1 early in the fourth quarter. Those were big plays against a Patriots game plan that tested the defensive line's pass rush ability more than its run defense. New England called only 17 designed runs compared to 40 dropbacks, which kept the Redskins in their nickel defense for the majority of the game.
Bowen's stop on third-and-1 in the fourth quarter was his biggest play. On a run to the left by RB BenJarvus Green-Ellis, Bowen stayed low and drove LG Logan Mankins into the backfield. That opened a gap through which FS Reed Doughty surged. Bowen got off his block and helped Doughty stop the play for no gain. It got the Redskins the ball back trailing by 7 with 12:43 remaining.
And Bowen set up his third-and-1 stop by making the tackle on the preceding second-and-3. He shed Mankins to stop RB Danny Woodhead for two yards. Bowen also batted down a pass at the line of scrimmage on the first play of the third quarter.
Bowen joined NT Barry Cofield in sacking QB Tom Brady on the penultimate play of the first quarter after a stunt beat C Nick McDonald. Cofield got off the ball fast, swam past McDonald and engaged Mankins. Cofield's formidable swim move got McDonald off balance, and Bowen looped around past him from the right. Bowen then ran over Woodhead to get to Brady.
GASSERS
CB DeANGELO HALL: Letdowns involving Hall's effort and composure cost the Redskins. That can't happen, especially against the Patriots and especially from a team captain. As a Pro Bowl veteran, his intangibles must impact the team in a positive way. It's one thing to be beaten on the field in a football sense — that's going to happen to everyone in the NFL — but players can control their attitude, effort and emotions.
Hall stood and watched while 6-foot-7 TE Rob Gronkowski dragged FS Reed Doughty and SS DeJon Gomes toward the sideline in the first quarter. He told reporters he thought Gronkowski had stepped out of bounds, but Gronkowski had not, and that should have been clear from Hall's angle. Gronkowski shed Doughty and Gomes and ran an additional 29 yards before Hall chased him down. The Patriots scored a touchdown on the next play. Coach Mike Shanahan used the words "disappointing" and "embarrassed" in describing the play on Monday.
In the second half, Hall incurred a 15-yard unsportsmanlike conduct penalty for throwing an official's penalty flag in protest of a holding call against him. Hall's a veteran and a captain who knows such tantrums amount to 15-yard penalties. He has to control himself. The Patriots finished that drive with a touchdown, as well.
Hall had the unenviable task of covering WR Wes Welker for most of the game. On a couple of runs, Hall followed Welker back inside when Welker ran to block a safety or linebacker on a running play. That resulted in a soft edge that New England's running backs exploited.