Like it or not, the BCS championship game will be a rematch between LSU and Alabama.
Oklahoma State complained it should have had a shot at the top-ranked Tigers, BCS bashers had more fodder for the we-need-a-playoff debate and many fans scrunched up their noses at the thought of another field goal-kicking contest like the previous incarnation of the Game of the Century.
The good news, particularly if you're in the no-rematch camp, is that there are 34 other bowl games with some great players, great matchups and even some interesting nicknames, starting with that rascally Honey Badger in the Bayou.
Here's a rundown of some things to look for during the next month or so:
TOP GAMES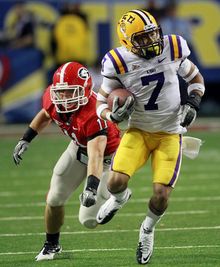 Even if you're not a fan of LSU and Alabama getting a return engagement in the BCS title game, you have to watch. It is for the national title, after all. But there are plenty of other games worth watching.
• Fiesta Bowl, Stanford vs. Oklahoma State, Jan. 2, Glendale, Ariz. - If the national championship game were to have an undercard, this could be it. Two great offenses, two great quarterbacks in Andrew Luck and Brandon Weeden - expect lots of yards and points in what has the potential to be the most entertaining bowl.
• Rose Bowl, Wisconsin vs. Oregon, Jan. 2, Pasadena, Calif. - Speaking of shows, how about Badgers running back Montee Ball and Ducks dynamo LaMichael James trading jukes and touchdowns? Going to be some day on the couch the day after New Year's.
• Alamo Bowl, Baylor vs, Washington, Dec. 29, San Antonio - Robert Griffin III on one side, Keith Price and Chris Polk on the other, not a lot of defense. Yeah, this is going to be good.
• Cotton Bowl, Arkansas vs. Kansas State, Jan. 6, Arlington, Texas - Arkansas' two losses were to LSU and Alabama, K-State's to the two big Oklahoma schools. All you need to know.
PLAYERS TO WATCH
• Robert Griffin III, Baylor. The Heisman Trophy? You may have heard of it - and him.
• Andrew Luck, Stanford. The Cardinal quarterback is the fourth player to be Heisman runner-up in consecutive seasons, a threat to pass or run, the likely No. 1 overall pick in the NFL draft.
• Tyrann Mathieu, LSU. The Honey Badger has a knack for coming up with big plays at big moments. Now he gets his chance on the big stage.
• Case Keenum, Houston. The sixth-year senior will leave Houston with his own section in the NCAA record book. Being relegated to the TicketCity Bowl after a late-season loss likely will have him motivated to go out with a big game.