ANALYSIS/OPINION
A review of the best and worst performances by the Washington Redskins' offense and some observations after re-watching the TV broadcast of their 34-27 loss to the New England Patriots.
GAME BALLS
RB ROY HELU: The Redskins will enter the offseason in three weeks with a long list of needs on offense. That's obvious. After his third straight 100-yard game, an important question is whether Helu has changed coach Mike Shanahan's thinking about the magnitude of the need at running back. Would Shanahan be content to go with Helu as a featured back and devote the Redskins' resources to acquiring a top quarterback prospect, improving the line and getting a receiver or two?
Shanahan had success in Denver with different backs. However, coaches and former players distinguish between Terrell Davis' ability and others' (Olandis Gary and Mike Anderson). When Gary and Anderson ran for 1,200 and 1,500 yards, respectively, Davis would have had at least 500 more, they say, because of his ability to diagnose cutback lanes, his feel for creating them himself, his patience and his speed. Helu is closer to the Gary/Anderson/others category than Davis or Houston's Arian Foster. Is Shanahan OK with that considering how many other needs he has on offense?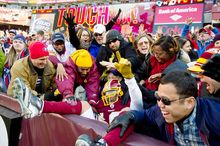 One can't help but wonder what Helu could do behind a better offensive line. The blocking for him was wildly inconsistent against New England, but he still had 126 yards. He made defenders miss with his quick feet and speed, and he gained 51 yards after contact on 27 carries. CBS analyst Dan Dierdorf during the broadcast emphasized Helu's impressive lateral quickness, and it's worth mentioning again. There were times when he had to cut two or more yards behind the line of scrimmage because the blocking broke down in front of him, but Helu adjusted with his feet, kept his shoulders squared to the line of scrimmage and didn't lose speed or power.
His speed to the edge and around the corner resulted in several big runs. There were times when he had to bow his path around a tackle that had been pushed back, but he still made it work. Helu whiffed on a blitz pickup on the Redskins' first play from scrimmage, but he was better after that. Overall, it was another promising game for the rookie. Regardless of how Shanahan and the organization evaluate the running back position entering the offseason, Helu has established himself as a contributor.
WR DONTÉ STALLWORTH: It's a bit baffling that the Redskins released Stallworth last month considering the big plays he's made for them since returning. On Sunday, he helped the Redskins match their season-high of 50 percent third-down efficiency (7-of-14) by converting three of them. A big part of being a reliable third-down option is running quality routes against defenses expecting the pass. Stallworth did that.
On his 51-yard catch on third-and-9 in the first quarter, he released inside CB Devin McCourty to get in position for the deep ball. Later in that drive, Stallworth converted third-and-7 using a whip route on which he put McCourty on his back by selling his route to the right flat and pivoting quickly back to the inside. On third-and-9 on the Redskins' last drive, Stallworth ran a crisp 'in' cut, holding McCourty at the top of the break so he could separate to the inside. Those are little things that result in impactful plays.
WR JABAR GAFFNEY: Gaffney seems to have a knack for finding holes in zone coverage. There were plays on which he got wide open simply by taking what the soft New England coverage gave him. He also benefited from some of the play-action passes on which the linebackers lost depth by biting on the run fake.
On Gaffney's touchdown catch, the Redskins took advantage of a blown coverage and a successful play-action fake. When S James Ihedigbo came up to stop the run, Gaffney ran away from CB Devin McCourty by selling the post and then breaking back out to the corner. The Redskins sent only three receivers out on that play against seven defenders in coverage, but they won because of play-action. That's what a successful running game and quality play design will do for an offense.
GASSERS
LG MAURICE HURT: It's pretty much a broken record at this point with Hurt. He's in there out of necessity. The Redskins have to hope he gets leaner in the offseason, which should improve his strength and quickness in case he's needed again in a backup role. He was inconsistent finishing his blocks. He can be slow getting off the first assignment in a combination block and late redirecting to a linebacker. On the first play of the game, an inside linebacker blitzed past him untouched when Hurt blocked down, and QB Rex Grossman took a hit. Hurt also was penalized twice for holding.
It wasn't all bad, though. He cut down DL Kyle Love on the backside of RB Roy Helu's 16-yard run around the right side in the first quarter. On Helu's 26-yard run around the left end later in the quarter, he sustained his block against LB Dane Fletcher long enough for Helu to turn the corner two steps ahead of Fletcher.
LT WILLIE SMITH: Smith secured his place on this list by giving up the sack-fumble-touchdown on his third NFL play. For his regular-season debut, though, he wasn't too bad.