My favorite 16th-century killing machine has returned to teach players the finer points of assassination in the incredible third-person adventure game Assassin's Creed Revelations (Ubisoft, rated Mature, $59.99).
Let's skip the intriguing and complex "Matrix"-like story that carries a comatose Desmond Miles back in time, completing ancestral memories to save his life, and concentrate on controlling his ancient avatar, Ezio Auditore da Firenze, who's all grown up and now a mentor to the Assassin Order.
This third game of the series delivers the best Assassin's Creed to date as a player explores and thrives in 1511 Constantinople and even gains insight into the deep plot by occasionally controlling assassin Altair (from the first game) during the Crusades and Desmond trapped in a "Tron"-like location.
The action continues to mix stealthy combat (stalk, chase and kill) more bloodthirsty than Batman with mild resource management as missions and side missions take the player on a violent, historical journey battling such fearsome foes as Byzantine militia, armed Ottoman Empire guards, soldiers of the Templar Order and the brutally trained Janissary (Sultan's elite troops) as well as mercenaries and common thieves.
Familiar and incredible moves, such as diving from tall towers into a haystack, sneakily popping out to kill an enemy and then hiding him in the stack are back and never grow old.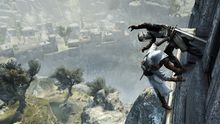 The variety of actions will keep a player busy, including investing money to rebuild parts of a city, shooting enemies from a rooftop from far distances, tossing coins to the ground to cause a riot, flicking a poison dart at a guard and watching him freak out, recruiting assassins (who will watch over territory and help in fights) and using a crude parachute to drop from high places.
Our assassin's tools of the trade also have been upgraded.
Besides a pair of blades that pop out of Enzio's sleeved wrist to execute cowardly Templar captains on the fly (through very slick maneuvers that Wolverine would admire), he gets the new hookblade, which can help Enzio quickly climb a stone wall or flip over an opponent to gain the upper hand.
A complex system to build bombs adds to the fun as a player must find ingredients by opening the chests and searching the bodies of his freshly killed victims.
Three components (a shell, gunpowder and a special-effect ingredient, such as Datura powder to release poison fumes) combined at special tables result in a variety of explosive devices, including a caltrop bomb, a trip wire and a stink bomb.
What continues to stand out is the historical travelogue that opens as Enzio explores new locations. Taking the video game to an encyclopedic level, a database reveals facts about visited attractions, such as Forum of the Ox (near the western walls built under Roman rule) and the Galata Tower (built by Genoese settlers in 1348, it was a key component to a larger defensive structure dismantled during the time of Ottoman rule).
Although the open world action is certainly enough, Ubisoft now adds a watered-down Tower Defense component to defend and retake districts from the evil Templar Order.
Enzio basically positions riflemen and archers on rooftops to ambush attacking troops. Barricades can be set up to hinder their progress, and cannon blasts also help wipe out the enemy threat.
Now, I'm more than satisfied with the free-roaming, cinematic adventure that taps into my thrill-seeking, but Ubisoft continues to build its online multiplayer challenge, and it's equally impressive.