Even wearing blue jeans, there's no doubt that Mike Graham is the man in red.
With bushy eyebrows and white hair that matches his equally wild beard, the jolly Tennessean also rattles off reindeer trivia — each animal can pull up to 800 pounds, he said.
"Everybody who walks down that line thinks this is the easiest job in the world," said Mr. Graham, 54. "That's exactly what you're supposed to do: Make it look effortless."
The married father of three has for the past 22 years made a second career out of playing Kris Kringle at Tysons Corner Center. But the prolonged economic slump has increased the competition.
Robert Mindte, the founder and chief executive officer for Santa for Hire, said he routinely gets calls from "guys wanting to work, guys out of a job."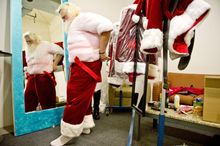 "I am seeing an increase in the number of guys in their 50s, early 60s," he said. "It's primarily those who aren't able to pay bills and they're using the seasonal opportunities to pay bills."
Mr. Mindte started the business in 1999 when he offered to help a friend who had an uncanny resemblance to Santa find work using the Internet and a new tool called a search engine.
The following year, Mr. Mindte, a design engineer, was approached by a national cosmetics chain looking for a Santa for a holiday party. Twelve years later, the Newport Beach, Calif.-based Santa For Hire now has about 200 Santas in the field.
Mr. Mindte said the number of Santas in the company has increased by 10 percent this year, which he attributes in part to the tight times.
"It's not a problem to have a guy come in and say 'Hey, I need money,' " Mr. Mindte said. "If he's a good guy, got a good attitude, I'll hire him. I have a thorough application form they have to fill out. The guys that are living in the trailers at the river usually don't let me do a background check."
A clean record, however, isn't the only requirement. The men better have the beard to back it up.
All of the Santas who belong to Santa for Hire sport natural beards, Mr. Mindte said, and the requirement is one that hasn't changed over the years. As for the abdomen that shakes like jelly, the baby boomers who have yet to reach grandfatherly status use padding to help fill out the suits.
"Kids can tell with a fake beard," Mr. Mindte said. "We've had children say to their parents 'I finally get to meet the real Santa Claus.' "
Even Mr. Graham, who completed his first Santa gig at age 28, said he needed a little help looking the part when age was not on his side.
"As I get older I have to have less enhancement," he said with a smile. "The days of the wig and the beard are about gone."