ANALYSIS/OPINION:
A review of the best and worst performances by the Washington Redskins' offense and some observations after re-watching the TV broadcast of their 23-10 win over the New York Giants.
GAME BALLS
RG CHRIS CHESTER: Chester led a solid performance by the offensive line. It was inconsistent — breakdowns prevented any of the Redskins' running backs from a rush longer than eight yards — but linemen generated significant push often enough to move the ball on the ground and command respect from the Giants' linebackers. That's quite an accomplishment for a patchwork unit facing what usually is a stout Giants front seven.
Chester's timing with C Will Montgomery was effective on several combination blocks. RB Evan Royster gained seven yards behind them on Washington's second touchdown drive. DT Linval Joseph lined up over Chester. Chester exploded up into Joseph off the snap, threw off Joseph's arms and quickly hooked him to the right. Chester then released to block MLBChase Blackburn, while Montgomery had positioned himself to seamlessly replace him blocking Joseph.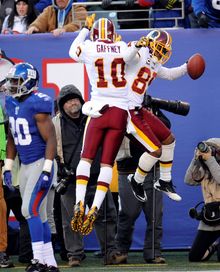 Chester believes his timing with Montgomery has significantly improved from the start of the season, he said Tuesday. He and Montgomery have played the most games at their respective offensive line positions — 14 and 12, respectively. That shows how beneficial stability is.
FB DARREL YOUNG:Young made a major impact on the game as a blocker and a runner. He had four carries — three for first downs and one for a touchdown. The Redskins used some quick handoffs to Young to take advantage of how New York's ends like to get up field. And as you'd expect, his power was a major asset in short yardage. Young converted second-and-1 in the third quarter by lowering his shoulder and bulling DE Justin Tuck backward. He also ran through S Antrel Rolle's tackle in the secondary on his 6-yard touchdown.
Young's blocking was more consistent than in the last game. Again, power and physicality are his strong suits. He almost took out coach Mike Shanahan in the fourth quarter because he drove CB Aaron Ross at least five yards back and onto the Redskins' sideline. Shanahan scrambled to safety along with several others around him. There are at least a dozen examples of quality lead blocks. In the first quarter, RB Roy Helu got six yards around the left edge behind Young, who engaged LB Mathias Kiwanuka.
Young wasn't perfect, though. LB Chase Blackburn beat him on the opening kickoff to make the tackle. He ran into RG Chris Chester's back and never blocked anyone on a 2-yard pitch to the right on Washington's first touchdown drive. Young didn't get enough of DE Jason Pierre-Paul to prevent the Giants' only sack after Pierre-Paul didn't hesitate when WR Niles Paul bluffed blocking him. But Young generally executed his blocks and finished them powerfully.
WR JABAR GAFFNEY: Gaffney is positioned to finish the season as the Redskins' leading receiver because he runs quality routes. He consistently gets separation on that 15- to 20-yard dig route because he holds the corner at the top of the break by getting in and out of it sharply and at high speed.
Gaffney and QB Rex Grossman have established a reliable connection on that route using play action. It has been working perfectly in recent weeks. The run fake sucks the linebackers up and opens the throwing lane, while Gaffney sharply cuts in to separate from the corner playing with outside leverage. Gaffney makes the corner respect the vertical route by running at him, then puts his foot in the ground and gets back to the inside. Meanwhile, Grossman has the timing down so the ball arrives before the corner can recover. Gaffney ran CB Aaron Ross off for 17-yard gains twice in a span of three plays in the third-quarter.
Gaffney had a 16-yard reception on third-and-16 to extend the Redskins' second touchdown drive. He beat rookie CB Prince Amukamara (who later was benched) on a slant, then broke back to the outside around the defender. Gaffney on Tuesday said he caught the pass with a good feel for where Amukamara was because of his peripheral vision. He knew he had running room back to the outside even before the caught the ball.
Gaffney also converted fourth-and-1 on the Redskins' first touchdown drive by separating from Amukamara on quick out route. Grossman justifiably trusts Gaffney to win in a one-on-one situation against a rookie. Subtly pushing off with the right arm helps, too. He trails TE Fred Davis by one reception for the team lead, and he is 158 yards away from 1,000 on the season. He's under contract for next season, too. Considering the price — defensive end Jeremy Jarmon, who didn't fit in the 3-4 scheme anyway — he's one of this regime's best acquisitions.
GASSERS
There are no gassers to give out this week, which surprises me a bit. The Redskins' offense played well enough to win comfortably, but it failed to score touchdowns on two of three trips inside the red zone, and it averaged only 3.1 yards per carry. However, there weren't enough breakdowns or mistakes to offset the positives. That's progress.