✔ Pick of the Pack
Miscellany: Water-skiing Santa
Two weeks ago, we told you about where to take your kids to sit on Santa's lap underwater. While that opportunity has passed, it's not too late to make this year's Christmas a weird one. For the 26th year running, Santa and his retinue — elves, reindeer, the Grinch, Frosty — will do water sports on the Potomac River. Yes, water sports. The reindeer will kneeboard. The elves will wakeboard. The Grinch will ride a Jet Ski. Santa will water ski. A penguin will drive the boat. Merriment will be had by all. And with temperatures 15 degrees higher than average this holiday season, you can watch the show without worrying the performers — er, Santa and his peeps — will suffer from hypothermia.
Saturday. Best viewing spot: National Harbor, 137 National Plaza, Oxon Hill, Md.
Phone: 703/280-1788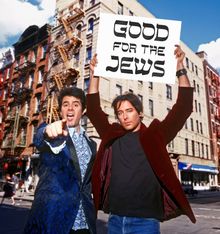 Web: www.waterskiingsanta.com
Comedy: Good for the Jews
Rob Tannenbaum wears many hats. To some, he is the interviewer who got singer-songwriter John Mayer to say those career-derailing comments about his racist sex life a last year. To others, he is the gadfly who provoked Rosanne Cash (daughter of Johnny) by saying the voice is not the hardest musical instrument to perfect (Ms. Cash, a singer, bristled). To Washington-area music fans/Jewish people, he is one half of the musical act Good for the Jews. (David Fagin is the other half.) Mr. Fagin and Mr. Tannenbaum take the melancholy that imbues Jewish history, and spin it as a success story. "They tried to kill us, we survived, let's eat!" goes the chorus of their most frequently quoted song, "They Tried to Kill Us." Perhaps funniest of all is that their most consistent gig takes place every year on Christmas Eve.
Saturday at Jammin' Java, 227 Maple Ave. E., Vienna, Va.
Phone: 703/255-1566
Web:http://goodforthejews.net
Concert: Wu-Tang Clan
Once upon a time, the Wu-Tang Clan was a young person's rap group. That was before Jay-Z became a part owner of the New Jersey Nets, the Roots changed their name to Jimmy Fallon's Champagne Orchestra, and Ice Cube appeared on "Fresh Air" with Terry Gross and admitted that he discourages his kids from swearing (good on him, we say). Like their hip-hop brethren, Wu-Tang has gotten a little older, a little wiser, a little more cautious (what with the death of ODB). Which is why you can see the crew — RZA and GZA, Method Man and Raekwon, Ghostface Killah and Masta Killa, U-God and Inspectah Deck — playing at the (ahem) State Theatre, typically home to country and R&B acts. Is this weirder than Andrea Bocelli playing at the WWE-popularized Verizon Center? Possibly. Then again, this is the season of miracles.
Friday at the State Theatre, 220 North Washington Street. Falls Church, Va.
Phone: 703/237-0300