Pat Troy rattles off the names of famous hands he's shaken with the same matter-of-factness that the bartenders at his well-known Irish pub in Old Town Alexandria have when reciting the draft-beer list.
Charlton Heston, the Kennedys, Pope Benedict XVI are among those that jump to his mind.
It's an impressive list, considering Mr. Troy's humble beginnings as a poor Irish immigrant who landed in America in the summer of 1962.
Mr. Troy, who's owned his Ireland's Own pub since the 1970s, considers the day President Reagan unexpectedly walked through the doors in 1988 among his most memorable moments.
"That was awesome," Mr. Troy said, his voice growing soft. "He had the corned beef and cabbage. He asked me what was a good beer. I didn't want to give him Guinness. I said Harp, because it's easy."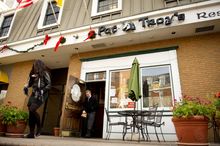 The two-seat table at which Reagan sat still holds a special place in the restaurant. Every morning the staff lights a candle that's been placed at the table, and every night it's the last light to go out.
On a recent afternoon, he gazed upon the lunch crowd seated among the photographs of smiling family members, friends and local celebrities lining the walls and considered his success.
"I guess there's something in a person when you meet them, you get to like them," said Mr. Troy, who still hosts a radio show after 40 years. "Pat Troy's Irish Radio Show" can be heard at 11 a.m. Sundays on WUST 1120-AM.
"Every Sunday, when I finish my radio show, I say, 'It's nice to be important, but it's much more important to be nice,' " Mr. Troy said.
Other notable faces that stick in Mr. Troy's mind are actress Meredith Baxter — who was able to dine unnoticed at his pub for hours - and Catholic Archbishop of Baltimore Edwin O'Brien.
"He's a very down-to-earth man," Mr. Troy said of the archbishop, who at the time was an Army chaplain.
"He was the one who got me the contact to meet the Holy Father," Mr. Troy said. "He's a great friend and one of the most wonderful human beings."
Virginia Democratic Rep. James P. Moranhas known Mr. Troy for decades.
"What you see is what you get," said Mr. Moran, vice mayor of Alexandria during Mr. Troy's early years in Old Town. "He relishes being unique, and he's very proud of his Irish Catholic heritage. This is in the old tradition of the tavern keeper being a hallmark of the community.
"He's one of a kind. We don't have enough of his kind anymore."