Head Coach: Flip Saunders (third season, 49-115; 16th season overall, 636-511)
Assistant Coaches: Randy Wittman, Don Zierden, Sam Cassell, Ryan Saunders, Gene Banks
Ht/Wt: 6-11, 267
Last Yr: 16.8 ppg, 8.2 rpg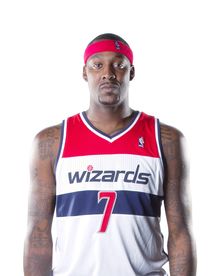 The knock on Blatche has been his maturity and focus. He promises that will change. Blatche led the team in rebounds last season and was second behind Nick Young in scoring. In his seventh season, Blatche needs to show leadership, consistency, maturity and All-Star caliber play.
Ht/Wt: 6-8, 235
Last Yr: 5.3 ppg, 3.9 rpg
Booker is the classic junkyard dog. He makes plays though sheer effort, hustle and energy. His contributions may not always show up in the stat sheet, but there are nights when he could lead the team in rebounds.
Ht/Wt: 6-4, 195
Last Yr: 16.3 ppg, 3.9 apg
Crawford is tough, fearless and competitive. He has confidence in himself, so he'll never stop shooting, even if he's having an off night. Crawford will need to improve his shot selection and decision-making since he'll occasionally be called on help out Wall at point guard.
Maurice Evans, G/F