✔ Pick of the Pack
Exhibit: Animal Grossology
If your child is at an age where nothing is more hilarious than the sound of air escaping the body, do not despair. You can use your little one's fascination with all things coarse for educational purposes at the "Animal Grossology" exhibit at the National Geographic Museum. Here, your child will learn that the cow — not his friend Jimmy — is the gassiest creature on Earth; that the slimy leech has medicinal value; and that the dung beetle and other excreta-eating insects make all our lives easier. Under the supervision of National Geographic staff, your child can mix and match chemicals to create the firefly effect and learn how maggots mysteriously appear on trash.
Through Jan. 8 at the National Geographic Museum, 1145 17th St. NW
Phone: 202/857-7588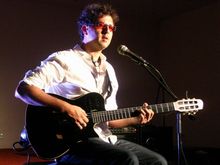 Web: http://events.nationalgeographic.com
Concert: Juancho Herrera
While his native Venezuela crumbles under the rule of Hugo Chavez, Juancho Herrera continues to shine evermore in the U.S. His blend of traditional Venezuelan folk music, jazz and electronica has been featured in commercials for Pepsi and Chrysler, and on Univision. The 1993 Berklee grad brings his quartet to the Kennedy Center's free Millennium Stage next week for a show that will delight jazzheads and cultural tourists alike.
Jan. 3 at the Kennedy Center Millennium Stage, 2700 F St. NW
Phone: 202/467-4600
Web: www.kennedy-center.org
Exhibit: 'Manifold Greatness'
The best-selling book of all time is said to be the Bible. The Folger Museum's exhibit on the King James Bible seeks to put that claim in context with a history of how the King James Bible in particular came to exist and its cultural penetration. The astronauts on Apollo 8, for instance, read King James while orbiting the moon on Christmas Eve 1968, while Gonzo comic R. Crumb copied its verse word-for-word for his illustration of Genesis.
Through Jan. 16 at the Folger Museum, 201 E. Capitol St. SE
Phone: 202/544-4600