Dick Clark still ringing in New Year on ABC
If you need proof that Dick Clark still rules New Year's Eve, here it is.
On New Year's Eve, ABC is devoting its entire prime-time and late-night schedule to Mr. Clark and his various specials that have greeted new years over the past four decades. The evening kicks off with "New Year's Rockin' Eve: The 40th Anniversary Party" (8-10 p.m.).
Then, at 10 p.m., "Dick Clark's Primetime New Year's Rockin' Eve With Ryan Seacrest" features Mr. Clark with Mr. Seacrest in Times Square. Musical guests range from Lady Gaga to Justin Bieber to the Band Perry.
The "Rockin'" party will continue through 2:13 a.m. (Why it ends at exactly 2:13 a.m. is never really explained. Maybe Mr. Clark turns into a pumpkin at 2:14?)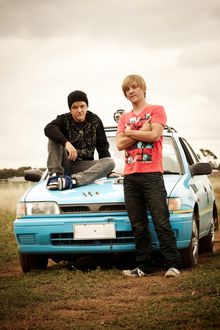 But Mr. Clark doesn't have a monopoly on Saturday's celebration. Other offerings include "American Country New Year's Eve Live" (11 p.m., Fox). The special, which comes from Las Vegas, has performances from Lauren Alaina ("American Idol") and Rodney Atkins.
Rock band Coldplay will headline "Austin City Limits" as a New Year's special (11 p.m., PBS), and Carson Daly will be on hand, representing NBC, with his annual special from New York City (10 p.m.).
Single actor tackles six roles in new HBO show
Three years ago in his mockumentary "Summer Heights High," Chris Lilley played a trio of characters at an Australian high school, including a flamboyant drama teacher and a mean society girl.
Now Mr. Lilley is back with the even more ambitious "Angry Boys," a 12-episode showcase where he tackles a half-dozen personalities in an examination of boys and men who are misunderstood, self-deluding and typically at odds with the opposite sex. By turns painful, bitterly funny and illuminating, the series premieres at 10 p.m. Sunday on HBO, with two half-hour episodes airing weekly.
According to the Associated Press, Mr. Lilley's pantheon includes identical twins Nathan and Daniel Sims, an angry, constantly bird-flipping pair of 17-year-olds. They have a troubled dynamic: Nathan was left deaf and mentally addled by an accident, and Daniel, who loves him yet hates him for being disabled, teases Nathan cruelly while defending him against the rest of the world.
Mr. Lilley is also the boys' grandmother, a devoted but often inappropriate prison officer at the Sydney Garingal Juvenile Justice Center for teenage boys.
Another of Mr. Lilley's characters is S.mouse, a rich-kid rapper in Los Angeles who scores with an embarrassingly stupid novelty song and dance but is bitter at his father's derision and, worse, his lack of hip-hop outlaw cred.
This spectrum of characters — and the geographic range they represent — speaks to the higher stakes for which Mr. Lilley (who created, wrote, co-produced and co-directed the series) is playing this time around.
With its documentary format, "Angry Boys" seems to unfold spontaneously, but Mr. Lilley said it was tightly scripted, even storyboarded, before shooting started.