On a warm summer night nearly four decades ago, Israeli military attache Joseph Alon was shot five times in the driveway of his Chevy Chase, Md., home, one of the bullets piercing his heart.
For his family, the hole remains.
"I remember everything," said Yael Alon-Rosenchein, Mr. Alon's daughter, who was 14 years old at the time of the murder. "It was very, very emotional. It still is."
The ongoing mystery surrounding the death of Alon, the first foreign diplomat ever murdered in the nation's capital, is explored in the Israeli documentary film "Who Shot My Father? The Story of Joe Alon," which makes its American debut Tuesday night as part of the 22nd annual Washington Jewish Film Festival.
Directed by Liora Amir Barmatz, the film tells the story of Alon, a charismatic war hero, and the determined efforts of his grief-stricken daughters, Ms. Alon-Rosenschein and Rachel Alon-Margalit, to uncover the truth about his killing.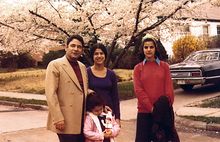 Also featured in the film is Fred Burton, a former State Department counterterrorism agent who grew up near the Alon family and recently wrote a book about his lifelong effort to crack the unsolved case, a tangled saga of international terrorism and Middle East geopolitics with hints of a Cold War conspiracy.
"It was almost a perfect storm of variables that caused this case to slip through the cracks," said Mr. Burton, vice president of the Texas-based private intelligence company Stratfor and the author of "Chasing Shadows: A Special Agent's Lifelong Hunt to Bring a Cold War Assassin to Justice." "But cold cases are solvable if you get enough people and attention paid to them."
In cold blood
Two summers ago, Ms. Alon-Margalit and Ms. Alon-Rosenschein came from Israel to meet Mr. Burton outside their family's former American home, the first time the sisters had returned to the scene of their father's death. With them was Kent Holden, one of the paramedics who treated Mr. Alon.
"Why couldn't you just sew the heart?" Ms. Alon-Rosenchein said. "Take that one [bullet] out and make him come back?"
Early on the morning of July 1, 1973, Mr. Alon and his wife, Devora, returned home from a dinner party for a departing Israeli Embassy staffer. Mrs. Alon exited the couple's green sedan and headed for their front porch; Mr. Alon was reaching into the back seat to retrieve his jacket when an unknown gunman standing roughly 6 feet away shot him with a foreign-made .38-caliber revolver.
Mrs. Alon saw a white car drive away, then ran inside and called for help. She and her eldest daughter, Dalia, then 18, tried to stanch Mr. Alon's bleeding with bathroom towels.
The killing was front-page news, shocking Washington. Serving a three-year diplomatic posting, the 43-year-old Alon was a gregarious regular on the military and political cocktail circuits, well liked by his Pentagon counterparts.
Born on a Kibbutz in Palestine in 1929, Alon moved with his parents to Czechoslovakia and survived the Holocaust when his family sent him to England in the early days of World War II. He subsequently became an ace Israeli fighter pilot, commanding the nation's first squadron of French-built Mirage fighter jets and devising air combat tactics that helped his nation triumph in the Six Day War of 1967.
In Washington, Alon was integral to Israel's acquisition of U.S.-made F-4 Phantom fighters. He also was a likely source of intelligence on the combat performance of American hardware against the Soviet-supplied militaries of Egypt and Syria.