A leading Venezuelan presidential candidate says he would reverse the foreign policy of leftist strongman Hugo Chavez, whose precarious health has prompted speculation that he will not be alive for next year's election.
Pablo Perez, governor of Zulia, Venezuela's most populous state, said he would end alliances with autocratic Middle Eastern regimes, work for a democratic Cuba and improve relations with the United States, if elected president.
"I don't believe in alliances with nondemocratic governments," Mr. Perez, 42, told The Washington Times. "I will ratify alliances with democracies."
Mr. Perez also said he "would bring back the oil revenues to the Venezuelan people instead of giving them away to other countries," indicating that he would end Mr. Chavez's special relationship with communist Cuba.
In the past few months, Mr. Chavez, who is suffering from colon cancer, has been shuttling between Caracas and Havana to receive chemotherapy treatments.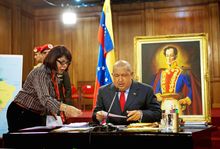 Polls show that Mr. Chavez, 57, remains a favorite to win re-election, but Latin America observers have speculated that he might not be alive for October's election, despite his claim that he is "free of the illness."
In a Nov. 8 article for FoxNews.com, former Assistant Secretary of State Roger Noriega wrote that Mr. Chavez's medical team thinks that "absent a radical change in his condition, he is not likely to survive more than six months."
"According to sources that have provided me privileged information and documents from within the Venezuelan regime for many months, recent tests show that Chavez's cancer is accelerating and his chances of surviving until the October 2012 presidential elections are worsening," Mr. Noriega wrote.
Venezuela's opposition Unified Democratic Panel, a broad alliance of parties that united in 2008 with the goal of ousting Mr. Chavez, will nominate a presidential candidate in February.
Mr. Perez and Henrique Capriles Radonski, governor of Miranda state, are widely considered the front-runners among the six candidates, all of whom have promised to support the nominee.
"It's hard to know how this will play out because Chavez's condition has been such a closely guarded secret," said Michael Shifter, president of the Washington-based Inter-American Dialogue think tank. "But If Chavez can't run, I'd give the opposition the edge - and probably a significant edge."
Mr. Shifter said that while Mr. Perez and Mr. Capriles Radonski have been capable governors, Mr. Perez - who, unlike the other candidates, came from humble roots - might prove a less convenient target for Mr. Chavez and his allies.
Mr. Noriega told The Times that he thinks the opposition is well-positioned to win a Chavez-less election, but he fears that - without proper international attention - Chavez allies might try to delay or cancel the election.
Mr. Perez sought to dispel what he called the "mistaken fear" that Mr. Chavez's departure would create instability.
"It is important for the international community to understand that there will be no chaos as Chavez leaves his post," he said, promising to "guarantee respect for those who are working in President Chavez's party."