WEATHER OR NOT
Snowprah Winfrey, Snoverkill, SnOMG, Snonami, Commutegeddon, Getagripia, Snowball Warming, Oblizzeration, Snowtorious B.I.G., Shovelmania, the Blizzard of Oz, the Fast and Flurrious, Thunderslush, Snowjam, Snowtopia, Snowzilla.
The nation has moved far beyond mere Snowpocalypse. Though Al Gore has predictably blamed the Blizzard o' 2011 on "man-made global warming," these are a just few names for this week's 2,100-mile snowstorm, as suggested by those caught up in it. They are gleaned from a veritable squall of blogs, the National Post, National Public Radio and other sources. And what to do in the interim?
"If you find yourself snowed in, or it's just too cold and miserable to be outside, make good use of your time indoors and start working on your 2010 tax return. You'll be glad you did when it's a beautiful day in early April," advises the Illinois CPA Society.
THE BIG REVEAL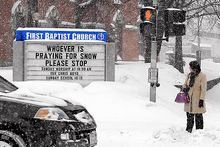 X-rated airport scanners? What X-rated airport scanners? The Transportation Security Administration has new software for its advanced imaging technology machines that automatically detects "threat items," then indicates them on a generic "person" outline. Does this mean no more underwear pictures? Maybe.
The new software is now being tested at Las Vegas McCarran International Airport, and soon, at Hartsfield-Jackson Atlanta International and Ronald Reagan Washington National Airport.
"We are always looking for new technology and procedures that will both enhance security while strengthening privacy protections," sighs John Pistole, the agency's formerly embattled administrator.
OINK
Despite happy Democratic talk of ending earmarks, Sen. Ben Nelson, Nebraska Democrat, and Federal Communications Commission Chairman Julius Genachowski are among six finalistsfor 2010 Porker of the Year, says Citizens Against Government Waste. The watchdog group tracks spendthrift habits on Capitol Hill and beyond, and invites citizens to vote on their favorite porker here: www.cagw.org. The winner(s) will be announced in mid-February.
ORIGINAL SIN
Former George W. Bush adviser and Hudson Institute senior fellow Tevi Troy points out that along with a wealth of constitutional references, U.S. District Judge Roger Vinson's ruling against the heath care overhaul law also refers to a 2002 article on the scope of congressional power by Robert Bork and his own brother, Daniel E. Troy, former chief counsel of the Food and Drug Administration.
"In contrast to previous domestic-policy changes like Social Security, Medicare, and welfare reform, all of which had substantial bipartisan support, the one-party imposition of the health care law has ensured that will always be seen as a partisan endeavor. As a result, it will never be able to overcome the original sin that governed its birth, and this will ultimately be its undoing," Mr. Troy observes.
"Judge Vinsons ruling, along with the fact that a majority of states have joined the lawsuit against the bill, the recent House repeal vote, and the bills consistent unpopularity, remind us that there are many avenues available in a free society for challenging questionable legislative actions, and the anti-Obamacare movement is serious about exploring all of them."
SCIENCE CORNER