D.C. Mayor Vincent C. Gray will get an early test of his political capital in the April 26 special election to fill a City Council vacancy, and members of both parties already say the new mayor is misreading the tea leaves.
Mr. Gray is backing Sekou Biddle, who is occupying the at-large seat on a temporary basis after fellow Democrat Kwame Brown became council chairman after November's election. But even some Democrats say Mr. Gray cannot simply anoint a winner in the race.
"Democrats aren't the only voters sensing a power play by the black political establishment," said Leo Alexander, a former television newscaster and black Democrat who unsuccessfully challenged Mr. Gray in last year's Democratic primary.
The lone Republican in the race, Patrick Mara, also cautioned that the winner won't ride into office on the coattails of the mayor because the special election is nonpartisan and all candidates will compete equally.
Democrats selected Mr. Biddle to fill the Brown seat on an interim basis after an unexpectedly messy internal battle. Mr. Biddle has been endorsed by Mr. Brown, a childhood friend, Mr. Gray and a slew of council Democrats, and he said he is looking forward to beating "Democratic challengers" to fill out the remainder of the term.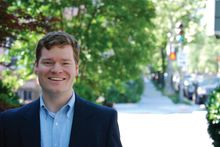 But Mr. Mara could benefit from being the lone Republican in a multi-candidate field, with Democrats fighting among themselves for votes.
"This isn't an election about Democrats versus Republicans," Mr. Mara said. "It's about face-to-face meetings with all voters and getting them to the polls."
Democratic challengers Jacque Patterson, president of the Ward 8 Democrats, and Josh Lopez, a supporter of former Mayor Adrian M. Fenty, agreed.
Republicans lost all five challenges they mounted in the 2010 partisan races. But Mr. Mara said the at-large race presents a different set of circumstances and challenges, nullifying the traditional disadvantage for a GOP candidate in a heavily Democratic city.
First, the city's charter mandates that the contest be nonpartisan, and all challengers "need a plurality of votes" to win, Mr. Mara pointed out.
He also said weather can temper voters' attention.
Obtaining signatures to get on the ballot "is a challenging thing to do in the winter months," Mr. Mara said. "A lot people aren't outside traditionally, so you have to circulate door to door. … Even Metro stations are a challenge because people want to get indoors where it's warm."
Mr. Patterson said he isn't concerned about the weather, but does worry that a split among Democrats "bodes well" for Mr. Mara. If Mr. Mara wins, he would be the first Republican on the D.C. Council since Carol Schwartz lost her re-election bid in 2008. She lost to Mr. Mara, who in turn lost to an independent in the general election.
Biddle supporters are urging Mr. Patterson's backers to "get behind" the candidate endorsed by the mayor, Mr. Patterson said.
"That's not being democratic, and it bodes well for their [Republican] candidate," said Mr. Patterson.