KAMPALA, Uganda | The bludgeoning death of a gay-rights activist here last month was greeted with worldwide condemnation, but over the past two weeks, it has galvanized anti-homosexual sentiment in this East African nation.
Religious leaders here have approved the brutal slaying, a state lawmaker has proposed legislation that would require parents to report their homosexual children to police and a local newspaper has outed several suspected gays with the suggestion that they be hanged.
As the United States struggles with gay marriages and civil unions, Uganda — where homosexuality already is outlawed — faces a crisis in drawing a distinction between opposing homosexuality and condoning violence committed in the name of that opposition.
During a Sunday service soon after David Kato's Jan. 26 slaying, a prominent pastor, Martin Ssempa, told his congregation of mostly university students that the gay-rights activist had tricked his "victims" into getting drunk before molesting them and fleeing into the night.
Mr. Ssempa has been a leading voice against homosexuality here, framing it as a Western import designed to corrupt African culture and going so far as to show gay pornography in his church.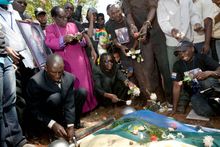 During Kato's funeral, the presiding Anglican pastor shocked those in attendance when he called on gays to repent or else be "punished by God."
"The world has gone crazy," the Rev. Thomas Musoke said. "You cannot start admiring a fellow man."
Ugandans' response to the Kato slaying has created an almost palpable atmosphere of fear among homosexuals. Kato's former colleague at the rights group Freedom and Roam Uganda, Kasha Jacqueline, said she has turned off her phone because of an increase in death threats.
"We've never been safe, but the threats are growing," she said, adding that institutions that would be expected to defend gays' struggle for equality have distanced themselves from the cause.
The Uganda Human Rights Commission has found no compelling reason to take action amid rising hostility. "We don't want to single out a group," commission Chairman Med S.K. Kaggwa told The Washington Times. "When you start identifying with one group, you stop doing your job."
The Monitor newspaper, a leading voice of democracy and human rights in the country, relegated news of Kato's killing to a sliver at the bottom of Page One, while Uganda's top tabloid, the Red Pepper, referred to Kato as a "sodomy champ."
One potential reason for the indifference may be the perceived motive for Kato's slaying: The international media were quick to imply that he had been killed because of his sexuality, but police here say it appears he was killed in a personal dispute over sex and money.
Police say Enock Nsubuga, a friend of Kato's, confessed to killing the activist with a hammer after Kato refused to pay him as promised for sex. "There is nothing concrete to suggest that Nsubuga was motivated by hate, although we are not dismissing it," Inspector General Kale Kayihura told reporters.
Gay-rights groups say they distrust the police and suspect anti-homosexual involvement.
But anti-homosexual activists have seized on the Kato slaying as evidence that gays are conspiring to corrupt the family and are more prone to sexual abuse than heterosexuals.