Republican lawmakers on Wednesday hammered the Obama administration's move to regulate the Internet, but Federal Communications Commission Chairman Julius Genachowski stood his ground, offering no apologies for the agency's new "net neutrality" rules.
Mr. Genachowski, who pushed the new regulations through a divided FCC board in December, defended the agency's new Internet "rules of the road" on Capitol Hill, telling lawmakers he is confident the FCC acted within its authority.
"Some people say that our open Internet framework doesn't go far enough. Some people say it goes too far. I think we got it about right," the Obama appointee told the House Energy and Commerce subcommittee that oversees the telecommunications industry.
But the GOP takeover of the House meant some uncomfortable moments for the FCC head.
Congressional Republicans in the hearing were almost unanimous in their condemnation of the regulations, which are intended to protect consumers and businesses from anti-competitive manipulation of access by big Internet providers such as AT&T and Comcast.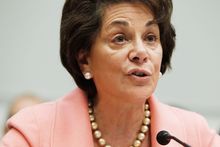 Subcommittee Chairman Greg Walden, Oregon Republican, called the FCC net neutrality rules a regulatory overreach and "little more than an end run around" Congress and the courts.
Mr. Walden, part of a group of Republicans who threatened Wednesday to bar any funding for the FCC to implement the new regulations, questioned the agency's legal standing and authority to issue the new rules.
"In essence, the FCC argues it can regulate anything," he said, adding sarcastically: "I am relieved, however, that the FCC declined under its newfound authority to regulate coffee shops, bookstores, airlines and other entities."
"Why would you put the government in charge of the Internet?" demanded Rep. Fred Upton, the Michigan Republican who chairs the full Energy and Commerce Committee, in a statement distributed at the hearing.
Pressing their case, leading House and Senate Republicans later in the day formally introduced a resolution to undo the FCC regulations, though the likelihood of any measure surviving a likely presidential veto is small.
Still, the House controls the FCC budget — something Republicans made clear to Mr. Genachowski and the other commissioners Wednesday.
Rep. Adam Kinzinger, Illinois Republican, complained that the FCC was trying to pre-emptively solve a problem that didn't exist and said he was stunned that commissioners "felt that you had the authority to go around Congress."
The FCC action represents a "dangerous precedent," Rep. Charlie Bass, New Hampshire Republican, told Mr. Genachowski and the other two Democrats on the board who approved the rules. The two Republican appointees on the commission, Robert McDowell and Meredith Attwell Baker, voted against the net neutrality package in December.
Asked to compare the FCC rules to the equivalent regulations in Europe, Mrs. Baker said the FCC took a "much more regulatory approach than the European Union."
Democratic lawmakers, led by California's Rep. Henry A. Waxman and Pennsylvania's Rep. Mike Doyle, defended the FCC action.