When Theresa Werner puts on her black pedal pushers, buttons her pink bowling shirt, pulls on her white bobby sox and steps into her saddle shoes, the time has come for her to exercise her blue 1957 Chevrolet Bel Air.
It all started in 1981 with a little girl tagging along after her father. Elementary school-age Miss Werner was accompanying her father at a gathering of antique cars at Hershey, Pa. when one car in particular figurative reached out to her. What had arrested her youthful attention was a 1957 Chevrolet. She didn't know anything about cars but she certainly knew what she liked and from that day on she has been infatuated with 1957 Chevrolets.
On driving trips with her parents, whenever the young girl would spy a 1957 Chevrolet parked by the road with a for sale sign in the window the family trip had to halt while she gave the car a close once over. "I would drool over them," she says.
On one of those excursions she acquired a pair of fuzzy dice, knowing that they would be the perfect accessory to hang from the mirror of the 1957 Chevrolet she didn't have — yet.
As Miss Werner approached driving age, the search for a 1957 Chevrolet became more intense. It wasn't easy, but she managed to get through Oakton High School and then George Mason University while driving newer but less desirable cars.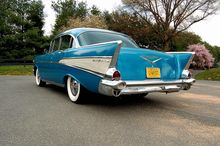 The fateful day arrived on the Friday before Labor Day in 2005. She was driving through Madison on a trip with friends when she spotted a 1957 Chevrolet on a hill off Route 29. There was a for sale sign in the window and, of course, she had to stop.
It was the first 1957 Chevrolet Bel Air that she had seen that was in reasonably good condition and that she could afford.
The deal was done before she left. She returned on Sept 9 to collect her long-sought prize. The old Chevrolet presented no problems on the way home.
Records that came with the car indicate that it was built in Baltimore and left the factory wearing a coat of black paint. She also discovered that she is the fourth owner. The original owner purchased the car in Hagerstown. In 1982 the second owner took the Chevrolet to Pennsylvania for a couple of years until it was sold to the third owner, who took it to Virginia.
Even now, after more than five years of ownership, Miss Werner says in amazement, "I can't believe I have it." Confirming her initial childhood impression of the car, she observes, "It looks good on me."
She discovered that her 3,276-pound four-door sedan was one of the more popular models in 1957 with a total of 254,331 such models manufactured. Each one of them rode on a 115-inch wheelbase and had a base price of $2,290. This particular Bel Air came equipped with a 283-cubic-inch V-8 engine that develops 185 horsepower. All that power is transferred to the rear drive wheels via an automatic transmission.
Miss Werner is fond of the dual hood ornaments and the wraparound windshield as well as the interior with the shoulderwide two-spoke steering wheel. However, If there is any one particular part of the Chevrolet that symbolizes the totality of the vehicle, she points to the rear fender with the Bel Air-only aluminum trim.
Now that she has acquired the car of her dreams, she has begun to accessorize, not the car but herself. The screen saver on her computer pictures her 1957 Chevrolet forever cruising across the monitor. Additionally, she finds it difficult to get in the proper mood to drive her car until she has changed into one of her 1950s era costumes. Poodle skirts remain popular.
Fortunately for Miss Werner, her Chevrolet is in pretty good mechanical condition. Beyond that, she has located a few mechanics who can help her keep the car on the road.
"I want to look good in it," she says, "that's the important thing."