Despite vigorous protests from House Democrats, the House of Representatives agreed Friday to eliminate "any and all" federal funding to Planned Parenthood Federation of America (PPFA) and its 102 affiliates.
The amendment offered by Rep. Mike Pence, Indiana Republican, is part of the massive House appropriations bill, aimed at keeping the federal government afloat for the rest of the fiscal year that was passed early Saturday.
The fates of both the overall bill and the Pence amendment in the Senate are unclear, but there are far fewer pro-life senators than House members. The House passed the amendment by a 240-185 vote.
Planned Parenthood responded swiftly, calling the amendment "the most dangerous legislative assault in our history."
It "does nothing to reduce the deficit, and it does nothing to improve the economy," said Cecile Richards, president of PPFA. Instead, it only serves to cost health professionals their jobs and "takes health care away from American women who cannot afford to pay for it on their own," she said.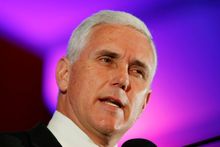 The Pence amendment underwent a lengthy debate Thursday night.
Mr. Pence said he introduced the amendment because "it's morally wrong to take the taxpayer dollars of millions of pro-life Americans and use it to fund organizations that provide and promote abortion, like Planned Parenthood of America."
He noted that in Planned Parenthood's latest annual report, it said it received $363 million in taxpayer money "while boasting of having performed an unprecedented 324,008 abortions during the same period."
About two dozen House members, including many women, denounced the Pence amendment, calling it a "war on women," a health care loss for poor families and an inexplicable attack on pregnancy prevention.
In one wrenching passage, Rep. Christopher H. Smith, New Jersey Republican, read a horrific description of an abortion from the new book, "Unplanned," by former Planned Parenthood clinic director Abby Johnson.
In an unexpected response, the next speaker, Rep. Jackie Speier, California Democrat, said that she had "endured" such a procedure and "lost the baby" when a much-wanted pregnancy went wrong.
"[F]or you to stand on this floor and to suggest as you have that somehow this is a procedure that is either welcomed or done cavalierly or done without any thought is preposterous," she said.
After the vote, supporters of the Pence amendment praised it as an enormous — and irreversible — step to wrest taxpayer dollars from Planned Parenthood.
Just this year, Planned Parenthood demanded that all of its clinics offer abortions, with "no exceptions," said Andrea Lafferty, executive director of the Traditional Values Coalition. "I couldn't be happier" with the Pence amendment, she said.
"Ending taxpayer funding of Planned Parenthood is a nonnegotiable," said Marjorie Dannenfelser, president of the Susan B. Anthony List, which supports pro-life candidates.