Mitt Romney and Mike Huckabee are tied for first place among likely 2012 GOP primary voters, according to a sampling of recent polls, but the betting in the political community is that Mr. Romney almost surely will run and Mr. Huckabee will not.
A multimillionaire businessman and former Massachusetts governor who sought the GOP nomination in 2008, Mr. Romney is free to pursue the 2012 race full time.
Mr. Huckabee, also a former governor from Arkansas, would have to give up his Fox News Channel TV show and the income that comes with it.
"I'm thinking about [running]," Mr. Huckabee insisted this week. "It's just that I haven't made a decision."
Mr. Huckabee, Mr. Romney and former Alaska Gov. Sarah Palin were in a statistical tie for first place in a Gallup poll released on Wednesday, with no candidate having broken away from what is still a very crowded field.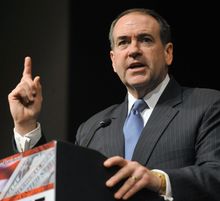 Mr. Romney and Mr. Huckabee were rivals for the 2008 Republican presidential nomination, with Mr. Romney far outspending Mr. Huckabee in a contest ultimately won by Arizona Sen. John McCain. Mrs. Palin burst onto the national stage in that race as Mr. McCain's surprise choice as vice presidential running mate.
The Real Clear Politics average of recent presidential nomination preference polls has Mr. Romney winning 19.1 percent, enough to lead among the six other hypothetical contenders in the poll, but by a mere 0.7 percent.
Eleven months before the first nomination contests begin, practitioners and watchers of politics give Mr. Romney a slight edge for the nomination because of his personal wealth and his wealth of successes in business.
But if polls this early in a cycle accurately forecast the outcome, Americans might be addressing Rudolph W. Giuliani today as "Mr. President." The former New York mayor was in first place with 40 percent of the likely GOP primary voters in a February 2007 poll, with Mr. McCain at only 18 percent and Mr. Romney at a dispiriting 7 percent.
In Mr. Romney's case, his biggest obstacle in 2012 is "Romneycare," the health care system he devised as governor that is being likened to President Obama's own national health care law — one routinely savaged by virtually every GOP candidate.
Mr. Romney, 63, is seen as a more comfortable candidate compared to his sometimes stiff 2008 persona, but cannot match the relaxed likability of Mr. Huckabee, 55, a former Southern Baptist minister.
But Mr. Huckabee faces questions of his own from some core GOP primary voters, who worry he is a bit soft on issues such as crime, immigration and Islamist militancy. His biggest obstacle next year might be fundraising, combined with unease over electing a deeply religious former preacher among some in the electorate.
Mrs. Palin, with 16.5 percent, falls into third place behind Mr. Huckabee's 18.4 percent.
The former Alaska governor, at 47 among the youngest of the potential contenders, is a political superstar who attracts TV cameras and press coverage as virtually no one else in the party. But a surprisingly large number of political professionals — Republican and conservative — privately express disdain for her executive experience and electability.
Veteran Republican campaign operatives say a number of other possible candidates have the strengths and experience to score an upset and go all the way.