President Obama on Wednesday broke his public silence on the Libyan government's bloody crackdown on protesters, saying autocratic leader Muammar Gaddafi's violent response is "outrageous and it is unacceptable."
"These actions violate international norms and every standard of common decency," Mr. Obama said in a brief statement from the Grand Foyer at the White House. "Like all governments, the Libyan government has a responsibility to refrain from violence. … It must be held accountable for its failure to meet those responsibilities."
Mr. Obama's remarks marked the first time he's publicly weighed in on the unrest gripping Libya. Previously, the administration's response was limited to comments by Mrs. Clinton and other top officials, as well as a "paper" statement attributed to Mr. Obama that was released to the press last week.
Mr. Obama, whose remarks followed a private meeting with Secretary of State Hillary Clinton, said he has ordered his administration to prepare a "full range of options" in response to the crisis. He also said Mrs. Clinton will travel to Geneva next week to discuss the situation with international allies at a session of the UN's Human Rights Council.
Italy's foreign minister estimated Wednesday that more than 1,000 people have been killed as a result of Mr. Gaddafi's violent suppression of anti-government protesters, who are demanding an end to the heavy-handed regime. The longtime strongman has vowed to fight the dissidents, even hiring fighters from outside countries as Libyan military officers defect to join protesters, who have reportedly taken control of several eastern cities.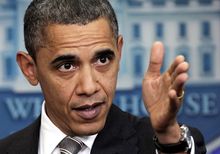 Pro-democracy uprisings have rippled across the Arab world in the wake of the toppling of rulers in Tunisia and Egypt. As in those instances, Mr. Obama said the U.S. "strongly supports the universal rights of the Libyan people," including the freedoms of speech and assembly.
The president said his highest priority is the safety of American citizens in Libya and said the State Department is doing everything in its power to ensure they are evacuated safely and quickly.