KAMPALA, Uganda | Ugandan President Yoweri Museveni did the expected over the weekend by winning another five-year term in a landslide victory to add to his quarter-century of rule.
Despite isolated reports of irregularities and intimidation, fears of mass unrest proved unfounded as riot police patrolled nearly empty streets across this dusty, potholed capital and other city centers.
The final vote tally Sunday marked an anti-climactic end to the country's most expensive — and arguably most important — election in Uganda's history.
The real drama begins now. Mr. Museveni, 66, head of the National Resistance Movement (NRM) will be hard-pressed to live up to his campaign promises to improve health care, education and industry and fix a swelling job mess with an unemployment rate as high as 60 percent.
"My fear is that young people's expectations are higher than what our government can deliver," said NRM official Robert Kabushenga. "The question is how efficiently the government can respond."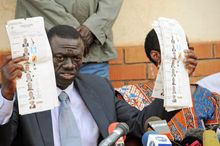 Western governments once hailed Mr. Museveni as an African leader for embracing trade liberalization and steering Uganda through a period of uninterrupted economic expansion.
Yet critics say Mr. Museveni has come to resemble a typical post-independence African dictator. He expanded the government, bought off dissenters and beefed up security forces as he struggled to respond nimbly to pressing problems.
Now he is attempting to accomplish what arguably no modern world leader has done and be a force of progress after a quarter-century in power. Many Ugandans are betting that Mr. Museveni can beat the historical odds judging by his margin of victory over the weekend. He bagged 68 percent of the vote, while his nearest rival, Kizza Besigye, managed 26 percent.
Key economic indicators are encouraging. From 2001 to 2008, Uganda's economy averaged 8 percent growth a year, the highest in the region. Central Bank Governor Tumusiime Mutebile predicts that it will grow 6 percent or 7 percent this year.
Trade with south Sudan also looks set to grow since the war-battered region voted to secede last month. South Sudan is Uganda's largest export market, accounting for $185 million of exports in 2009, according to the Export Promotion Board.
Ugandan officials predict that Southern Sudan will join the East African Community trading bloc after it officially becomes independent in July. Uganda is setting up a $1.29 million industrial park in the northern town of Gulu to foster new linkages.
Revenues from an estimated 2 billion barrels oil discovered in the west of the country are expected to come on line in a few years. Government officials predict the oil revenue will help end dependency on foreign donors, which now accounts for about 30 percent of the budget.
However, the robust macroeconomic outlook is deceiving, say critics. They point to mounting debt, stagnating industries and a failing national agriculture program.
Nearly 390,000 college graduates compete for 8,000 job openings a year, according to Labor Department statistics. Corruption is endemic, eroding the quality of law enforcement, education and health care.
Poverty hovers near 30 percent, with average annual income of about $340. The country suffers from among the highest birthrates in the world and is undergoing a youth bulge, with more than half the population younger than 15.