DEMO-DRAMA
Wisconsin union rallies are about to get a lot noisier. MoveOn.org has joined the fray and is in the mood for melodrama. At high noon Saturday, the progressive activists plan rallies to "save the American dream" — more than 60 nationwide in fact, with participants instructed to wear yellow foam cheeseheads and anything in red and white to honor University of Wisconsin colors. The group also has talking points right out of a Depression-era novel: "We demand that the rich and powerful pay their fair share. We are all Wisconsin. We are all Americans."
The sympathetic press will likely frame the endeavor as a noble thing, with inevitable Hollywood embellishment. Organizers - who are summoning environmentalists, union members, students, community organizers and grass-roots types — also have formed an umbrella group called the "Job Party" and talk as if they are ready to rumble.
"We're drawing a line in the sand. The entire progressive movement is putting everything we have into one massive display of progressive solidarity nationwide," says Democrats.com founder Bob Fertik. "We won't let Wisconsin Gov. Scott Walker — or any other billionaire-bought tea party governor — break the unions. Unions created America's middle class, and if they disappear we'll all end up as corporate slaves."
UNREST ELSEWHERE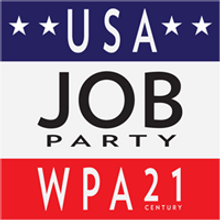 Meanwhile, the ever-savvy American public is dealing with reality: 77 percent are concerned that "radical Islamic terrorists may try to exploit the unrest in Arab countries to further their violent aims," says a new Rasmussen Reports survey. Another 58 percent say the ongoing discord "will lead to a major new war involving the United States." That number goes up to 70 percent among Republicans, incidentally.
WIKILOOKS
When in doubt, go into merchandising. He may have lost his fight against extradition to Sweden on sexual molestation charges, but Julian Assange knows good shopping when he sees it. The WikiLeaks founder has opened a gift shop to raise money for his whistle-blowing enterprise. The online storefront peddles tote bags, T-shirts and even baby clothes that quote George Orwell ("During times of universal deceit, telling the truth becomes a revolutionary act") and Mr. Assange himself ("What does censorship reveal? It reveals fear.")
Yeah, well. Skittish online commercial services such as Amazon and PayPal have abandoned Mr. Assange. But merchandise? Not so threatening. Mr. Assange's new gift shop is hosted online by Spreadshirt, a Pennsylvania-based provider.
ON THE RADAR
He spent lots of time answering questions about the 13-story "ground zero mosque" before stepping down from its religious leadership. Now he comes to Washington. Imam Feisal Abdul Rauf is in town Sunday to address both the massive "J Street Conference 2011" organized by the advocacy group J Street and the Friends Meeting of Washington. The New York imam says he is intent on creating "a forum for open and peaceful dialogue."
Imam Feisal is founder of the Cordoba Initiative, which led efforts last year to build Park 51, an Islamic community center within two blocks of the 9/11 site. He is currently on a national speaking tour.
BUMPER PATROL
"Global warming means a longer golf season."
Bumper sticker spotted in Harrisburg, Pa.