CASTING CALL
Former "Manhattan Madam" Kristin Davis, who ran a flamboyant campaign for New York governor in 2010 and, uh, once supplied call girls for the state's former governor-turner-CNN host Eliot Spitzer, has a message for the network. "I'm available," she says.
Mr. Spitzer's co-host Kathleen Parker left the nightly political talk show last week, citing a hankering to return to her syndicated column. CNN has since renamed the show "In the Arena," billing it as an "ensemble" effort.
"Now that Kathleen Parker has learned that Eliot Spitzer is a misogynist pig, perhaps it's time for CNN executives to pair Spitzer with someone who will challenge his sanctimonious know-it-all rants. I've spent years dealing with Spitzer, I'm quite sure I can handle him," Miss Davis insists.
THE FULL NELSON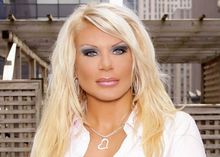 Republicans critics are irked that President Obama is leaving town during a critical time to attend a major league Democratic fundraiser for Rep. Bill Nelson, scheduled in Miami on Friday, the same day the government essentially runs out of money. Sponsors for the initial cocktail reception at the swank Fountainbleau Hotel pay $10,000 each. Admission for "dinner co-chairs" is $17,900 for a photo reception and dinner at the Miami Beach home of mighty Democratic donors Judith and Michael Adler.
The first $5,000 of each contribution will be allocated to Mr. Nelson's 2012 re-election campaign, for U.S. Senate, with lesser amounts going to primary and general elections. "The next $30,800 of each contribution from a person will be allocated to the Democratic Senatorial Campaign Committee," the party notes in an advisory to members.
"Republicans have been busy working on a plan to get our budget under control and keep the government running. Between his recent meeting with the Jonas Brothers and his posh Miami fundraiser this week, President Obama is busy, too. President Obama said he wants to have an adult conversation but he hasnt made any time to actually have it," observes Republican National Committee Chairman Reince Priebus.
A BLESSED BUDGET
"Social justice" Christians have a question for Congress: "What would Jesus cut?" The federal budget is a "moral document," they say, and should be treated as such. The group, which has sent "What would Jesus cut?" wristbands to lawmakers, includes presidents and directors from the Presbyterian Church, Mennonite Church, Disciples of Christ and the National Baptist Convention of America, among others.
"A budget is a moral document," says Jim Wallis, president of the D.C.-based interest group Sojourners. "It outlines who and what is important to a country. Jesus said that you shall know a tree by the fruit that it bears. He made the point that you know people's values and priorities more by what they do than what they say. And right now, the 'fruit' coming out of Congress looks rotten."
Perhaps their message should read "What would Jesus keep?" The group wants Congress to maintain international aid to prevent pandemic diseases, child health and family nutrition programs, plus education and welfare programs.
"People of faith will be profoundly disappointed if the debate on the budget splits along partisan or ideological lines. For us, the matter of how the people's money is spent is not a question of tea party slogans or liberal polemics,"says Michael Kinnamon, general-secretary of the National Council of Churches.
ASSANGE
"Public speaking services; news reporter services; journalism; publication of texts other than publicity texts; education services; entertainment services."