MORGANTOWN, W.Va. | He didn't seek the spotlight, but when Frank Buckles outlived every other American who'd served in World War I, he became what his biographer called "the humble patriot" and final torchbearer for the memory of that fading conflict.
Mr. Buckles enlisted in World War I at 16 after lying about his age. He died Sunday on his farm in Charles Town, nearly a month after his 110th birthday. He had devoted the last years of his life to campaigning for greater recognition for his former comrades, prodding politicians to support a national memorial in Washington and working with friend and family spokesman David DeJonge on a biography.
"We were always asking ourselves: How can we represent this story to the world?" Mr. DeJonge said Monday. "How can we make sure World War I isn't forgotten."
Mr. Buckles asked his daughter, Susannah Flanagan, about progress toward a national memorial every week, sometimes daily.
"He was sad it's not completed," Mr. DeJonge said. "It's a simple straightforward thing to do, to honor Americans."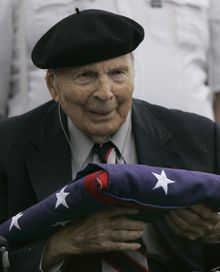 When asked in February 2008 how it felt to be the last survivor, Mr. Buckles said simply, "I realized that somebody had to be, and it was me."
Only two known veterans remain, according to the Order of the First World War, a Florida group whose members are descendants of WWI veterans and include Mr. Buckles' daughter. The survivors are Florence Green in Great Britain and Claude Choules in Australia, said Robert Carroon, the group's senior vice commander.
Ms. Green turned 110 on Feb. 19, and Mr. Choules turns 110 in March, he said.
Born in Missouri in 1901 and raised in Oklahoma, Mr. Buckles visited a string of military recruiters after the United States in April 1917 entered what was called "the war to end all wars." He was repeatedly rejected before convincing an Army captain he was 18.
More than 4.7 million people joined the U.S. military in 1917 and 1918. By 2007, only three survived. Mr. Buckles went to Washington that year to serve as grand marshal of the national Memorial Day parade.
Unlike Mr. Buckles, the other two survivors were still in basic training in the United States when the war ended, and they did not make it overseas. When they died in late 2007 and 2008, Mr. Buckles became the last so-called doughboy — and a soft-spoken celebrity.
He got fan mail almost every day, Mr. DeJonge said, and had enough birthday cards to fill several bushel baskets.
Mr. DeJonge had visited Mr. Buckles late last week and was driving back to Michigan with about 5,000 letters to organize and answer when he got the call telling him his friend had died.
"The letters are so heartfelt," he said. "Each night, Susannah would go in and sit at Papa's bedside and read them to Frank. That kept him going."
Mr. Buckles had been battling colds and other minor ailments this winter, but he was not ill at the time of his death.