TEHRAN, Iran | Iranian authorities have taken senior opposition leaders Mir Hossein Mousavi and Mahdi Karroubi to a prison in Tehran, a reformist website said Monday. A semiofficial news agency denied the report.
Kaleme.com said Mr. Mousavi and his wife, Zahra Rahnavard, as well as Mr. Karroubi and his wife, Fatemeh Karroubi, were transferred to Heshmatieh prison in the Iranian capital. It was not immediately clear when they were moved.
"According to the latest information obtained from reliable sources, Mousavi and Karroubi, together with their wives … have been arrested and transferred to Heshmatieh prison," kaleme.com said.
But the semiofficial Fars news agency, which is close to the powerful Revolutionary Guard, denied the report.
Fars quoted an unnamed judiciary official as saying the men were still under house arrest and have not been allowed to leave their homes or have any outside contact.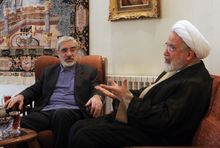 Calls placed by the Associated Press to judiciary officials went unanswered.
The imprisonment, if confirmed, would mark a major escalation of Iran's political crisis amid defiant calls from the opposition to stand up to the ruling system.
Earlier Monday, Iran's state prosecutor, Gholam Hossein Mohseni Ejehi, said authorities had cut all outside contact with the opposition leaders as part of a campaign to silence dissent.
The official IRNA news agency quoted Mr. Ejehi as warning that authorities would take "other measures" against Mr. Mousavi and Mr. Karroubi if necessary.
"In the first step, their contacts such as meetings and telephone conversations have been restricted," Mr. Ejehi was quoted by IRNA as saying. "Should circumstances arise, other measures will be taken."
Mr. Ejehi did not say where they were being held.
Mr. Mousavi and Mr. Karroubi were placed under house arrest after urging supporters to attend a Feb. 14 rally.
Clashes between protesters and security forces during the demonstrations killed two and wounded dozens.
Mr. Karroubi's website, sahamnews.org, said Iranian security forces took the two and their wives to an "unknown location" Thursday.
Activists and opposition members have demanded Mr. Mousavi and Mr. Karroubi be released and have vowed to stage demonstrations every Tuesday until they are freed.