ALEXANDRIA, Egypt | Egyptians are preparing for what is expected to be the largest pro-democracy demonstration the country has ever seen on Friday, but the 10-day-old popular uprising is taking its toll on protesters and civilians reeling from a week of chaos and violence.
Activists seeking the immediate ouster of President Hosni Mubarak are aiming to gather 10 million people at the Presidential Palace in Cairo in a massive demonstration they are calling "Departure Friday." Turnout for the protest was speculative on Thursday, however, as pro-government supporters continued to clash with pro-democracy protesters.
Looting, arson and random beatings have become the norm for what started as nonviolent demonstrations last week. Prices of food, phone calls and other goods and services have skyrocketed, and locals say they are afraid to leave their homes.
Bread costs 10 times what it did last weekend, and taxis and phone calls cost about double. In the markets, long lines form for cooking gas, and many fear that supplies of food, fuel and cash won't outlast the uprising.
"Nothing will be normal before the protesters go back home," said Dr. Khaled Fouad, a cardiothoracic surgeon who has joined other civilians who police their neighborhoods at night.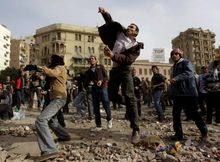 The government has suggested that foreigners are to blame for the unrest, and some foreign journalists have come under attack by angry mobs. One Asian TV reporter described the attacks as a "campaign of intimidation."
An Al Arabiya reporter was in intensive care after being attacked by pro-Mubarak demonstrators, and a British Broadcasting Corp. crew was detained for several hours.
The decaying situation in Egypt drew responses from around the world on Thursday:
• The New York Times reported Thursday that the Obama administration is discussing with Egyptian officials a proposal for Mr. Mubarak to resign immediately.
Under the proposal, Mr. Mubarak would turn over power to a transitional government headed by Vice President Omar Suleiman with the support of the Egyptian military, the Times said, citing administration officials and Arab diplomats.
Tommy Vietor, a spokesman for the White House National Security Council, said President Obama has said now is the time to begin "a peaceful, orderly and meaningful transition, with credible, inclusive negotiations."
• In a joint statement, the leaders of Britain, France, Germany, Italy and Spain condemned the violence and said Egypt's transition to a new government "must start now."
• About 1,000 supporters of Hamas demonstrated in front of Egypt's representative office in Gaza City, calling for Mr. Mubarak to vacate his office.
• Thousands of protesters in Yemen's capital, Sanaa, rallied in an Egypt-like protest, calling for the ouster of President Ali Abdullah Saleh, who has been in power for more than 30 years.
In Alexandria, Egypt's second-largest city, most people are not going to their jobs, and most businesses are closed. But men are still working hard, staying up all night protecting their homes with clubs, bats and blocks of wood.