PHOENIX | It's too early to tell whether Arizona Rep. Gabrielle Giffords could attend her husband's space launch in two months, her doctor said Tuesday, as many in Arizona paused to mark one month since a gunman's deadly ambush of her supermarket meet-and-greet.
Astronaut Mark Kelly announced last week he'll lead the Space Shuttle Endeavour's final voyage, a two-week mission to the International Space Station leaving April 19 from Cape Canaveral, Fla. Mr. Kelly said he expects that his wife, who was shot in the forehead, to be well enough to see him off.
But Dr. Gerard Francisco said doctors would have to decide on a variety of medical issues for that to happen, including whether Mrs. Giffords can fly, how much assistance she would need and how much noise she can tolerate.
"I think it's a good goal for us to work towards," said Dr. Francisco, the head of Mrs. Giffords' rehabilitation team at TIRR Memorial Hermann Hospital in Houston. The hospital said it is not providing detailed updates on Mrs. Giffords' progress at the family's request, including whether she is able to speak or if she's been told about the shooting.
By appearances, Tucson has largely returned to normal since six people were killed in the Jan. 8 attack. Massive makeshift memorials to the victims have been dismantled and boxed in locked storage for a future permanent memorial. The grocery store has reopened.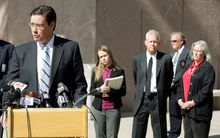 But the 13 survivors are struggling with their injuries and the emotional scars left behind.
Susan Hileman, 58, who survived three gunshot wounds, was holding 9-year-old Christina Taylor Green's hand when the shooting erupted. Christina was killed.
"People come up and hug me, and I just start bawling," Mrs. Hileman said. "And they feel so bad for making me cry, but my husband says, 'It's all right; it's what we do these days.'"
A luncheon was set to raise money for one of several funds set up to help the victims on Tuesday.
In Phoenix, the family of a Giffords aide killed in the attack joined lawmakers to call for a new state law to ban large-capacity magazines like the one used in the rampage.
Gabe Zimmerman's fiancee said she supports the right to own a gun, but said Jared Loughner, the 22-year-old Tucson man charged in the shooting, clearly intended to kill many more people.
"One month ago today, my life was changed forever," said Kelly O'Brien. "Something good must come of this tragedy. This must not be allowed to happen again."
The bill faces a difficult road to passage in the Republican-led Legislature, which has a strong record of supporting gun rights.
"We have the capability of stopping the carnage of any of these future events at 10 bullets instead of 31," said Rep. Steve Farley, who represents Tucson. "That's a common-sense bill."
But gun rights advocates said it would not have prevented the tragedy.