WASHINGTON (AP) — Sen. Kay Bailey Hutchison, a Republican who has represented Texas in the U.S. Senate for nearly two decades, announced Thursday she will retire next year when her current term expires.
In a letter addressed to her Texas constituents and also sent to members in the media, Mrs. Hutchison said she would not seek re-election in 2012. She previously signaled she might retire but changed her mind several times in the last few years. In 2010, she challenged Gov. Rick Perry in the GOP primary for governor but lost.
In her letter, the state's senior senator said she had intended to leave office sooner but was persuaded to stay on to "avoid disadvantage to our state."
Mrs. Hutchison was first elected to the Senate in 1993 in a special election to replace then-Sen. Lloyd Bentsen, who left his seat to serve as President Bill Clinton's Treasury secretary. She was elected to a full term in 1994 and comfortably won re-election in 2000 and 2006.
Mrs. Hutchison long has been viewed as representing moderate Texas Republicans. In her gubernatorial primary she ran as a more moderate alternative to Mr. Perry. Unlike her junior colleague, Republican Sen. John Cornyn, Mrs. Hutchison also supports legalized abortion.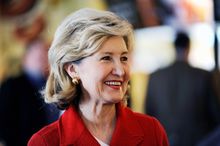 During the governor's race, which she soundly lost in the primary, she first told Texas voters she would leave her seat regardless of the outcome of the primary, then announced she would serve out the full term.
Mr. Hutchison will have represented Texas for 19 years in the Senate when her term expires. She said Thursday she would "be forever grateful for the privilege" of representing the state.
Her decision is likely to set off a competitive race to replace her.