Dania Brock is no longer afraid to go to the bathroom at night. The rats that haunted the outhouse in Haiti can't get her in Georgia.
Ketia Brenner is learning three languages — English, Spanish and Hebrew — and spends Friday nights eating popcorn and drinking root beer by the fireplace in Seattle.
Jimmy Lepp, once the unofficial "mayor" of his Port-au-Prince orphanage, is saving money for a dirt bike and learning to play the drums in Colville, Wash.
One year after crossing over a body-filled Haitian ravine and singing hymns to stay calm on their flight to Pittsburgh, they and 51 other children rescued a week after the Jan. 12, 2010, earthquake are, for the most part, thriving.
They also are learning to be part of something they haven't had in years, if ever: a family.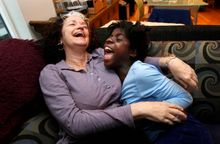 "They have done better than I would have ever dared to dream," said Diana Boni, the adoption coordinator with Owensboro, Ky.-based All Blessings International who worked with the 54 children and the Pittsburgh siblings who had run their orphanage.
The Pennsylvania airlift was the first of many that would, over four months, bring about 1,100 Haitian children to waiting U.S. families.
Ranging from 11 months to 16 years old, most whisked away in the hastily arranged Pittsburgh flight knew their adoptive families before the quake. The parents had spent months or years taking classes, reading books and visiting Haiti to prepare.
Yet for the children, there was still a sense of loss: They'd been happy and adored at the orphanage. They'd lived with dozens of playmates. Some, born into poverty and given up by their birth families out of love and necessity, even saw relatives occasionally.
But after the magnitude 7.0 earthquake flattened countless buildings and killed an estimated 316,000 people, Port-au-Prince sank into desperation and violence. Food and water were scarce. Shots rang out beyond the orphanage walls, forcing frightened children to lie still on the floor.
The orphanage staff worked with people back home, including Pennsylvania Gov. Edward G. Rendell, to arrange the daring rescue mission that involved the White House, the State Department and the Department of Homeland Security. In just a week, they made that bus ride over the ravine.
"They saw that," said Ms. Boni, "and the older they were, the more traumatized they were by that."
But they knew where they were going and who would take them in. They trusted in what they had been told. "They were ready to believe," Ms. Boni said, "that in the United States, we don't run out of water."
Critics, however, said proper procedures were circumvented and some children were taken without their birth families' permission. The U.S. government says it facilitated only cases it could confirm had been approved by the Haitian government, offering children "humanitarian parole" to protect the integrity of nearly 1,000 legitimate adoptions.
But among those who landed in Pittsburgh on Jan. 19, 2010, were a dozen children who had not been through the adoption process and did not have new homes. Critics say these 12 children should have been left behind until it was clear their relatives had consented.