Newly minted Republican lawmakers who stormed state legislatures with vows of fixing the economy and controlling spending also are tackling social issues, such as gun laws and immigration, with minimal Democratic resistance.
"This is the Republican high-water mark in terms of state legislatures since before the New Deal, in both the number of Republicans and the number of chambers they've taken over," said John Fortier, a political specialist with the American Enterprise Institute (AEI), a conservative-leaning Washington think tank.
"These are issues that are important to these new state majorities. They haven't had an opportunity to weigh in on them."
Norm Ornstein, also of AEI, added that social issues are tempting subjects for conservative legislators because they're easier to tackle than economic and budget problems.
"If they don't focus on social issues, they've got to focus on economic ones, and … who wants to do that?" he said.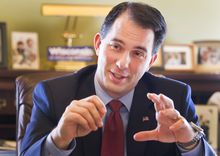 Days after a gunman in Tucson, Ariz., this month killed six and wounded 13, including seriously injuring Rep. Gabrielle Giffords, Arizona Democrat, state lawmakers in Arizona introduced a bill that would allow college and university faculty to carry concealed weapons on campus. The issue also gained traction after the 2007 mass shooting at Virginia Tech.
Other bills introduced this year in Arizona in the Republican-controlled Legislature include barring landlords and homeowner groups from restricting the right to bear arms in self-defense, and expanding the law that allows gun owners to display weapons in self-defense.
Arizona state Sen. Jack Harper, a Republican who has sponsored the campus-carry measures, said he is not trying to take advantage of the Tucson tragedy to garner support for his legislation but that "university professors are tired of feeling like sitting ducks."
In Florida, a bill that would permit licensed gun owners to carry firearms on state college and university campuses is scheduled for debate this year.
Florida Republicans — who hold significant advantages in the state House and Senate and occupy the governor's office — also are expected to push a bill that would allow people with concealed-weapons permits to wear handguns on their hips in public view.
Florida Sen. Greg Evers, a Republican who sponsored the "open carry" legislation, says he has no reservations in the wake of the Arizona shooting.
"We are one of four states that doesn't have open carry. It's the right thing to do," Florida Capital News reported Mr. Evers as saying. "The only way to stop a perpetrator is with equal force."
Wisconsin is one of two states to prohibit the concealed carry of firearms, but that could change with Republicans in control of both legislative chambers and the governor's mansion.
Gov. Scott Walker said that unlike his Democratic predecessor, James E. Doyle, he likely won't veto legislation aimed at loosening concealed-gun laws.
"You're going to see a concealed-carry bill pass the Legislature, I have no doubt," said Wisconsin state Assemblyman Chris Danou, a Democrat. "The question is, what kind of bill it's going to be."