MUZZLING THE MEDIA?
The United States added its opposition to Hungary's new media law after massive street protests in Budapest and stinging criticism of the measure from the European Union only weeks after Hungary assumed the presidency of the 27-nation alliance.
"As a close ally and friend, we call on Hungary to uphold media freedom at home and throughout the region, given its participation in the OSCE and as the current president of the European Union," said Ian Kelly, U.S. ambassador to the Organization for Security and Cooperation in Europe.
"The passage of the new media law has raised significant international concern about the future of freedom of expression in Hungary. … The United States cares deeply about freedom of expression, including press freedom, as a right that is central to democracy."
Mr. Kelly also said the media law tarnishes Hungary's image "as a country long recognized as a leader in the fight against terrorism."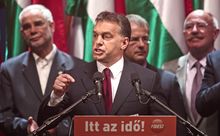 The media law took effect Jan. 1, the same day that Hungary began its six-month presidency of the EU. The government in Budapest is defending the law as a measure designed to promote balanced and moral news coverage. It creates a five-member National Media and Communications Authority appointed by conservative Prime Minister Viktor Orban. The authority can impose fines of up to nearly $1 million on broadcasters and more than $100,000 on websites or newspapers that violate the law.
Mr. Orban insisted that the Hungarian law simply reflects existing laws in many EU nations.
"All paragraphs and elements of this [law] are imported from EU countries. So I think it is a European regulation," he told reporters in Budapest earlier this month.
LATVIAN ANNIVERSARIES
The Latvian ambassador has plenty to celebrate Wednesday as he marks two major anniversaries with guests invited to the Latvian Embassy to watch a film about average citizens taking back their government from the Soviet Union in a bitter winter 20 years ago.
Ambassador Andrejs Pildegovics said the film, "Barricades for Freedom," documents the defiance of Latvians in the capital, Riga, in January 1991, when they blocked roads with trucks, boxes, chairs, tables and anything else they could carry into the streets to stop the Soviet army from invading.
The Soviet Union was in its death throes at the time, teetering on collapse. Latvians were determined to regain their independence, lost during World War II when the Soviets and the Nazis secretly divided up Eastern Europe.
The United States never recognized the Soviet takeover of Latvia, Lithuania and Estonia.
The second commemoration is the 90th anniversary of recognition of Latvian independence by the Allied Powers after World War I.
IRAQI FRIENDS