A controversial strip club in Northeast Washington is operating with a liquor license reserved in 2007 for a blighted warehouse property owned by a convicted drug kingpin who at the time was receiving city funds to renovate the site as a job-training center for ex-offenders, records show.
A neighborhood group has protested the Stadium Club to the D.C. Board of Zoning Adjustment, as reported last week by The Washington Times, claiming it is a sexually oriented business that should have been denied a permit. The club is co-owned by politically connected developer Keith Forney, a donor of unspecified amounts to D.C. Council member Harry Thomas Jr.'s nonprofit group Team Thomas. That organization is under investigation by the D.C. attorney general's office.
Before Mr. Forney and a partner purchased the 13,000-square-foot warehouse space at 2127 Queens Chapel Road, it was the property of a family business managed by Cornell Jones, the District's most notorious drug trafficking figure of the 1970s and 1980s and now executive director of the nonprofit group Miracle Hands. The group bills itself as a "resource access site for many who are underemployed, unemployed and/or those who are facing various socioeconomic plights."
From 2004 to 2008, Miracle Hands received more than $4 million from the D.C. HIV/AIDS Administration. In 2008, the group was tainted by an FBI raid and complaints from city monitors and former clients that it had misused city funds.
Among the funds in question were $420,000 in two city housing grants to renovate the Queens Chapel warehouse space to use as the Miracle Hands' job-training center. The second grant was awarded in March 2007, two months before city records show that a Southeast Washington club owner announced plans to transfer his liquor license to the same address.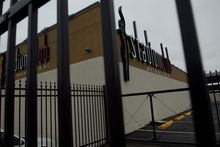 While Mr. Jones' involvement with the Stadium Club raises questions and his nonprofit continues its work, he has declined to return calls and text messages seeking information. But Miracle Hands never completed the warehouse renovation.
'The Ghost'
Mr. Jones is a D.C. gangster legend.
Immortalized in the Black Entertainment Television documentary series "American Gangster," in which he was nicknamed "the Ghost," Mr. Jones has credentials that include running an open-air drug market for PCP, heroin and cocaine on Hanover Place in Northwest Washington, a short drive from the U.S. Capitol, and importing drugs internationally for distribution throughout the Eastern United States.
Former Georgetown Hoyas basketball coach John Thompson Jr. also appears in the documentary to attest to Mr. Jones' civic influence and his reputation as a Robin Hood figure in the District's impoverished communities.
Federal court records show Mr. Jones owned several businesses and numerous residential properties in the District and Maryland used to launder money and to store and prepare narcotics for distribution. He used friends and family members to conceal his drug-dealing activities, the records show. In the investigation leading to his arrest and 1986 conviction for drug trafficking, detectives found $586,300 in cash in a safe-deposit box in the name of his father and mother.
A federal tax court slapped Mr. Jones with a $16.5 million judgment in 1990, saying he had failed to report income on $33 million in drug sales from 1985.
Mr. Jones was released from prison in 1995 after serving the low end of a nine- to 27-year sentence. The Internal Revenue Service declined to comment on the status of Mr. Jones' tax debt.
In the late 1990s, Mr. Jones started Miracle Hands to help ex-offenders, troubled youths and homeless people. He housed the organization in a warehouse complex at 2127 Queens Chapel Road that he and his family purchased in 2002 for $1.2 million, according to D.C. land records.
The warehouse complex had multiple purposes. In 2000, Mr. Jones' wife applied for a liquor license with the Alcoholic Beverage Control Board (ABC) for a nightclub called D.C. Tunnel next door to the space occupied by Miracle Hands. Marvin Turner, a director of Miracle Hands and the registered agent for W.F.J. LLC, the Jones family company that owned the warehouse complex, is listed on the application.