SOLEBURY, Pa. | A recent venture into his mother's basement became a Bear Country moment for Mike Berenstain.
Beyond the shelves of sketches and correspondence from hundreds of his parents' beloved Berenstain Bears books, he found furniture, kitchen appliances and other odds and ends. Why, he gently teased his mother in their studio recently, was she holding on to old stereo consoles and antique toasters?
"It's like the book where Mama Bear has a trunk full of what she calls 'valuable junk,'" Jan Berenstain replied with a laugh. "If it worked, I held on to it."
It's just one example of the connection between art and life in the Berenstain den.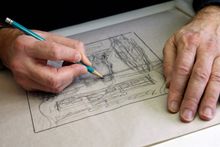 Nearly 50 years after the Berenstain Bears first charmed preschoolers and their parents, the lovable ursine clan remains as close to its Bear Country roots as the Berenstain children remain to the books bearing their family name.
Stan and Jan Berenstain created hundreds of books until Stan Berenstain's death in 2005 at the age of 82. Mike Berenstain, the couple's son, now collaborates with his mother in writing and illustrating new books at the same studio in an idyllic part of Bucks County, outside Philadelphia, that serves as inspiration for the books' setting.
The gentle stories of Mama Bear, Papa Bear, Brother Bear and Sister Bear, as always, are inspired by the Berenstain family — first from the children and now the grandchildren.
"We remain relentlessly focused on the family relationship. There isn't one character who's the star of any of the books," Mr. Berenstain said.
Mr. Berenstain, 51, started collaborating in the late 1980s on the books with his parents after creating about 30 of his own children's books.
"Their greatest popularity was in the '80s, and now those kids are having children of their own," he said. "Bad economic times also make people want to have more family-oriented time together."
The bears are venturing further afield nowadays, with an interactive website, toys, computer games, TV shows, a touring stage musical, a children's museum exhibit and an iPhone app. A movie by "Night at the Museum" director Shawn Levy is in the script phase and has a tentative release date of 2012, the 50th anniversary of the first Berenstain Bears book.
The books have tackled modern subjects such as online safety and childhood obesity, and the bears (or their human helpers) answer children's e-mails and letters, but the goal is to tell enduring, universal stories. Perennial favorites cover challenges of getting children to do chores, help defuse fears of the first day of school and teach values of kindness and generosity.
"They say jokes don't travel well, but family humor does," said Mrs. Berenstain, 87, who works in her studio daily. "Family values is what we're all about."
Stan and Jan Berenstain, both Philadelphia natives, were 18 when they met on their first day at art school in 1941. They married five years later and had two sons. The elder, writer Leo Berenstain, is involved with the business end of the family franchise.