SECRET AGENDA?
U.S. diplomats are still wrestling with the question of whether Turkey's ruling party is part of a fundamentalist Muslim movement bent on imposing brutal Islamic law on a country founded on democratic secular principles.
In 2007, the political counselor at the U.S. Embassy in Ankara reported on both sides of the issue, outlining the view of critics suspicious of the Justice and Development Party and of supporters who argue that the party is basically a conservative, pro-Western organization dedicated to reforming Islam.
"Ever since its victory in the 2002 general election, rumors and suspicion have swirled around the ruling Justice and Development Party's 'secret' Islamist agenda," Janice G. Weiner wrote in a confidential diplomatic cable to the State Department.
Some "doubters are relieved to find an AKP that appears conservative, Western, as well as Islam-oriented, reform-minded and democratic," she said, referring to the party by its Turkish initials.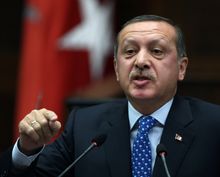 However "others remain convinced that AKP is determined to impose [Islamic] sharia law in Turkey and undermine the country's secular system," Ms. Weiner added in the cable released by the anti-secrecy website WikiLeaks.
"The issue either way is circumstantial, but the issue is central to Turkey's future," she said.
Critics warn that the AKP has Islamist roots dating to its predecessor, the Welfare Party, established in 1993. At the time, current Prime Minister Recep Tayyip Erdogan, now AKP leader, was the Welfare Party mayor of Istanbul and "praised God that he was a servant of sharia," Ms. Weiner wrote. Mr. Erdogan even referred to himself as the "imam of Istanbul."
In 1998, Mr. Erdogan was jailed for "inciting religious hatred" and served four months of a 10-month sentence, she added. Turkey's Constitutional Court banned the Welfare Party that year, finding it in violation of the country's secular values.
By the 2002 elections, Mr. Erdogan "moderated his rhetoric, making it easier for voters to turn to the AKP … as an alternative to traditional parties mired in scandals, corruption and an economic crisis."
"Conspiracy theorists and concerned secularists alike build the case against AKP by using persuasive but largely circumstantial evidence," Ms. Weiner added.
CHRISTMAS CANCELED
Religious-freedom advocates in Washington are outraged that Turkish-Cypriot authorities shut down a Christmas service at a Greek Orthodox church in a "bureaucratic ploy" aimed at harassing Christians in a Muslim-majority nation recognized only by Turkey.
Police stopped the Christmas celebration at the Church of Saint Sinesios in the village of Rizokarpaso because church officials failed to get permission for the service from the government of the Turkish Republic of Northern Cyprus. The Greek Orthodox congregation numbers about 350 people.
"It is wrong and a symbol of religious intolerance and repressive policies of Turkish-Cypriot authorities supported by Turkey's occupation troops to require such a small church community to seek permission to hold Christmas liturgy," said Leonard Leo, chairman of the U.S. Commission on International Religious Freedom.