Former Democratic Party Chairman Howard Dean on Wednesday said President Obama has relied too heavily on Washington insiders during his first two years in office but said an ongoing shakeup of inner circle of White House advisers will better serve the president.
Mr. Dean added that Clinton-era Commerce Secretary William Daley, rumored to be named Mr. Obama's next chief of staff, would be a good replacement for Rahm Emanuel, who left the post in October.
"There is in process a huge senior staff shakeup going on at the White House, and I think it's a very good thing," Mr. Dean said during a Washington breakfast briefing with reporters sponsored by the Christian Science Monitor.
"There is a huge desire to change the way Washington does business, and the president hired a senior staff with people with 20-year careers in Washington. If you want to change Washington, you can't hire people who benefited from the old system to change it to the new system."
The 2004 Democratic presidential hopeful said the president's inner circle of advisers repeatedly treated progressives and others with "contempt," adding, "they thought they knew everything and knew nothing. That's a fundamental flaw in any kind of administration."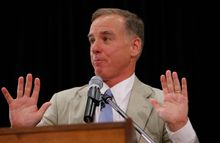 "Disrespect breeds disrespect," Mr. Dean said. "That has been one of the problems and I look forward to that changing."
Mr. Dean added that "I don't think it's too harmful to have a little diversity in the senior staff of the White House, either."
Mr. Dean said that despite Mr. Daley's past ties to Washington, the Chicago native — who has spent the past several years in the private sector — would provide a fresh perspective for Mr. Obama.
"If Bill Daley becomes the new chief of staff, that's going to be a huge plus because he's outside of Washington, D.C.," he said.
Mr. Dean declined to criticize Mr. Obama's advisers by name, including Mr. Emanuel, who is running for Chicago mayor, and White House Press Secretary Robert Gibbs, who announced Wednesday he was stepping down.
"It's more than just Gibbs or Rahm, it's a whole mindset going on there" in the White House, he said.
Mr. Dean said that, while he doesn't always agree with Mr. Daley — who he said has become more conservative in recent years — "he's a grown-up" who will treat people with respect.