Two packages mailed to Maryland state office buildings — one of which was addressed to Gov. Martin O'Malley — detonated Thursday, emitting smoke, a foul odor and sparking a sprawling multiagency investigation aimed at identifying the culprit.
Two state employees suffered minor burns when they opened the packages, requiring minor medical attention.
Maryland State Police spokesman Greg Shipley said the two incidents did not cause any significant damage, but did force 300 state employees to evacuate their offices for about two hours.
Authorities think the two incidents, which took place about 15 minutes apart, are related. They noted that no explosive material was found in either package.
"When both packages were opened, there was a reaction that caused a flash of fire, a brief flash of fire, smoke and a smell," Mr. Shipley said at a news conference. "This is not to be compared with a significant explosion that you think of when you say that word."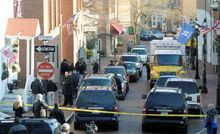 Mr. Shipley said mailrooms at all state office buildings had been quarantined so investigators could search for other suspicious packages.
Law enforcement officials said late Thursday afternoon they were investigating two other suspicious packages found at a state office building and courthouse in Baltimore. Investigators were not sure if those two were related to the first two.
The first package went off about 12:30 p.m. at the Jeffrey Building on Francis Street near the State House in Annapolis. The state offices there include the mailroom for packages sent to the governor.
The package addressed to Mr. O'Malley was described by authorities as about the size of a book and arrived in an envelope with no return address and five holiday-themed postage stamps.
When an employee opened the package, according to police, it emitted smoke and a sulfurlike smell. The employee singed a finger when opening the package, but refused treatment.
The Jeffrey Building, which also houses the state Department of Veterans Affairs, the Governor's Office of Homeland Security and the Maryland Secretary of State's Office, was subsequently evacuated.
Cate Conroy, acting director of outreach and advocacy for the Veterans Affairs Department, was working there when the first package was opened and said employees calmly left after being told to do so while reports of smoke were investigated.
"It happened quite quietly, actually," Ms. Conroy told the Associated Press.
She said employees were allowed back into the building around 3:30 p.m.
About 15 minutes after the fist incident, authorities said, a second package ignited on the fourth floor of the Maryland Department of Transportation headquarters in Hanover, which is near Thurgood Marshall Baltimore-Washington International Airport.