CENTRAL FALLS, R.I. | The teachers at Central Falls High School struck a deal to get their jobs back last year after the entire staff had been fired in a radical, last-ditch attempt to raise student performance. However, if administrators thought the teachers would be grateful for a second chance, they were wrong.
Many teachers aren't showing up for work, often calling in sick. Several abruptly quit within the first few weeks of the school year. Administrators have had to scramble to find qualified substitutes and have withheld hundreds of student grades because of the teacher absences.
The progress the city's school board — and the Obama administration — had hoped for seems increasingly, and alarmingly, elusive.
The problems come despite a labor agreement that union leaders and administrators in this poor, heavily immigrant city trumpeted as a breakthrough at Central Falls High, a struggling school of roughly 840 students where just 7 percent of 11th-graders tested as proficient in math in 2009.
"I expected when everyone came to the school that there would be more of a shared focus on making sure that everything was successful," said state Education Commissioner Deborah Gist. "At this point, we're concerned about whether or not people are going to be able to let go of the past and work together toward moving forward."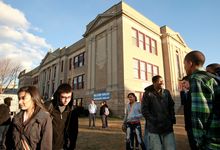 Exactly what's causing all the problems is unclear, but both sides acknowledge lingering discontent over the firings and the changes that followed.
Richard Kinslow, an English teacher who has not been calling in sick, said a new management team that was put in place was inexperienced and failed to offer support for teachers or crack down on rampant discipline problems, including what he said were physical and verbal assaults on staff members by students.
"We don't have a sense of clarity from our leadership. We don't have a clear sense of their mission or their vision. Communication has been, again, awful," Mr. Kinslow said. "If I'm going to be thrown into the bus by my supposed leaders every day, where is my hope? Where is my sense of team?"
Nevertheless, he said he was hopeful that a team of mediators coming into the school could encourage cooperation.
Central Falls High became Exhibit A in a national debate on education reform when the school board last February authorized the firing of all teachers. The school was identified as one of the state's worst, and after talks with the union broke down, the superintendent resorted to a new option, created by the Obama administration, that allows the dismissal of teachers at poorly performing schools.
President Obama appeared to endorse the firings, saying drastic action may be warranted when schools show no signs of improvement.
The White House declined to comment this week.
Following months of negotiations, the teachers were rehired after agreeing to work a longer school day, undergo more rigorous evaluations and provide more after-school tutoring. At the time, Ms. Gist said the changes would result in "dramatic achievement."
That hasn't happened.
More than a dozen teachers — and sometimes more than 20 — of the roughly 90-person staff were absent on an average day this fall, including six on long-term leave, said Central Falls School Superintendent Frances Gallo. Fifteen teachers have left since August, including six who quit after school started, though administrators said they have only one vacancy left to fill.