JUBA, Sudan — Women broke out in song and men wrapped themselves in flags as voters in Southern Sudan began casting ballots Sunday in a weeklong independence referendum likely to create the world's newest nation about five years after the end of a brutal civil war.
The mainly Christian south is widely expected to secede from the mainly Muslim north, splitting Africa's largest country in two.
The president of Sudan, who has been indicted for alleged genocide and war crimes in Darfur, has promised to let go of the oil-rich south after his government tried for years to derail the vote now taking place under massive international scrutiny.
His unlikely acceptance of the seemingly inevitable loss comes as the two regions face an interwoven economic future: Most of Sudan's oil is in the south, while the pipelines to the sea run through the north.
On Sunday, there was jubilation among those who had lived through years of fighting.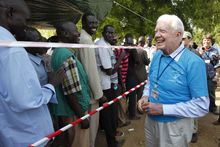 "This is the historic moment the people of Southern Sudan have been waiting for," said Southern Sudan President Salva Kiir as he cast his vote in front of a cheering crowd of hundreds lined up in front of the polling station. Sudan activist George Clooney was among those watching Mr. Kiir vote.
Mr. Kiir, wearing his trademark black cowboy hat, appeared visibly emotional as he remembered the 2 million people killed in the 1983-2005 civil war. He also honored rebel leader John Garang, who died in a plane crash shortly after the peace deal was signed.
"I am sure that they didn't die in vain," he told the crowd.
Women broke out in songs and chants, and one man waved a sign saying: "A road toward sovereignty. A new nation to be born on the African continent!!!"
Many voters lined up in the middle of the night, and some slept at the site of Garang's grave, where Mr. Kiir voted. Among the voters was Mawien Mabut, a 36-year-old soldier who was grinning widely as he lined up to cast his ballot.
"I have seen the inside of war, so we have to stop the war now. We are very happy the Arabs are going away," he said.
Standing near him was Rachel Akech, 30. The tall, pregnant woman has traditional scars on her face and her lower teeth removed, a rite of passage in the Dinka tribe.
"I couldn't even sleep, I've been thinking about this day for so long," she said. "I am ready to vote."
This week's referendum is part of a 2005 peace deal that ended the two-decade civil war between the north and south. Voters can mark one of two choices — a single hand for independence or two clasped hands for unity. The illustrations are necessary because only 15 percent of the region's 8.7 million people can read.
Southern Sudan is among the world's poorest regions, and the United Nations says a 15-year-old girl here has a higher chance of dying in childbirth than finishing school.