LOS ANGELES (AP) — Cars flowed freely through the nation's second-largest city Saturday, despite fears of epic "Carmageddon" traffic jams spawned by the 53-hour shutdown of a 10-mile (16-kilometer) stretch of one of the region's most critical freeways.
Authorities closed the segment of Interstate 405 on the western side of the metropolis to allow partial demolition of a bridge, warning motorists to stay off the roads or plan alternate routes.
With the heart of the day yet to come, officials were optimistic that the public far and wide had gotten the message.
"The work is progressing, traffic is cooperating," said Mike Miles, a district director of the California Department of Transportation, known as Caltrans.
There was some concern, however, that lack of gridlock might make the public complacent and get behind the wheel before the route reopens early Monday.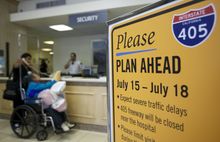 "We hope they still listen to what we're saying and not go out and try to drive through this area, because it is going to be congested if people do that," Miles said.
Progress on demolition of the half-century-old Mulholland Bridge was said to be good. Powerful machines with long booms hammered away at the south side of the span, which is being removed to allow the interstate to be widened. The plan is to leave the north-side lanes standing until the south side is rebuilt.
Gail Standish, 47, peddled from Beverly Hills with her bicycling club to a 405 overlook a quarter-mile (400 meters) from the closed span.
"Everybody's calling this weekend Carmageddon, but seeing the freeway empty it feels more post-apocalyptic," Standish said.
Authorities looking at the potential impacts of the $1 billion interstate project spent months giving the public dire warnings. The event got its name when Los Angeles County Supervisor Zev Yaroslavsky told an early June press conference that "this doesn't need to be a Carmageddon" if people avoided driving.
Major tests of the public's compliance were likely to come Saturday afternoon when the city fully dives into its weekend, and in the evening when Major League Soccer's Los Angeles Galaxy, featuring Britain's David Beckam, is scheduled to play Spanish heavyweight Real Madrid at Memorial Coliseum south of downtown.
One west side resident, David Noll, said he heeded the warnings and told his parents to cancel plans to come from the San Francisco Bay area for a visit.
"They made us believe that this weekend was going to be the worst thing ever, so I told my parents to stay home," he said. "I'm upset because we could have been hanging out together right now."
California Highway Patrol Officer Charmaine Fajardo said a 74-year-old man was arrested Saturday for jogging in the 10-mile (16-kilometer) segment of Interstate 405 after police told him he couldn't do so.
Fajardo said a suspected drunken driver was arrested after going around barricades, and one or more bicyclists also were intercepted. Officers now have orders to arrest anyone trying to enter the shuttered freeway.