BEIRUT — The discovery of three corpses with their eyes gouged out set off a sectarian killing spree that left 30 people dead in a chilling sign that the Syrian revolt against President Bashar Assad is enflaming long-simmering religious tensions.
The opposition accused the president's minority Alawite regime of trying to stir up trouble among the Sunni majority to blunt the growing enthusiasm for the four-month-old uprising. The protesters have been careful to portray their movement as free of any sectarian overtones.
The killings over the weekend in the central city of Homs "undermine the peaceful nature of the revolution and serve its enemies who want to turn it into a civil war," said Rami Abdul-Rahman, the director of the London-based Syrian Observatory for Human Rights.
Homs-based activist Mohammad Saleh said the violence began Saturday after the corpses of three Alawite government supporters were dumped in Homs with their eyes gouged.
The men had gone missing two days earlier.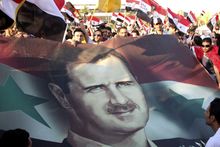 On Sunday, six bodies from various sects were found in the city, apparently in revenge attacks, Saleh said. Pro-government Alawite thugs called shabiha then went on a rampage, another activist said, opening fire in predominantly Sunni neighborhoods of Homs.
The dead included a 27-year-old mother of three, who was shot as she left her home, and a man in his 50s who was struck by a bullet on his balcony, a resident said.
"I was at the man's funeral yesterday, all he did was go out on his balcony," he said, adding that civilians have started setting up roadblocks to protect their neighborhoods. He spoke on condition of anonymity for fear of reprisals.
Up to 40 shops were vandalized or burned, he said.
"It was a catastrophe, the situation could easily have slipped out of control," the resident said, adding the situation calmed down Monday but tensions were high.
Sectarian warfare is among the most dire scenarios facing Syria.
The country is home to more than 1 million refugees from neighboring Iraq, who serve as a clear testament to the dangers of regime collapse and fracture in a religiously divided society. They also see the seemingly intractable sectarian tensions in Lebanon as a cautionary tale.
"The Assad regime itself has a vested interest to portray the protest movement as one which is violent led by criminals, terrorists and by external actors," said Anthony Skinner, associate director at Maplecroft, a British-based risk analysis company.
"This is potentially an issue that Assad can manipulate to try and divide the momentum that we have seen building up," he said.
The Assad regime has long held together a fragile jigsaw puzzle of Middle Eastern backgrounds — Sunnis, Shiites, Alawites, Christians, Kurds, Druse, Circassians, Armenians and more.