The rain has ended, but the flood of harsh words from the Washington Nationals, Potomac Nationals owner Art Silber and Prince William County hasn't stopped.
A ferocious storm tore through Northern Virginia last week. The hourlong deluge left creeks of muddy water flowing along roads, snarled traffic and soaked the field at G. Richard Pfitzner Stadium in Woodbridge, home to the Potomac Nationals, Washington's high Class A affiliate.
When the next day's doubleheader was postponed - on a pleasant evening more than 24 hours after the rain had stopped - Washington general manager Mike Rizzo issued a statement calling the field a "safety threat" and "even more dangerous" because of "unsupervised work."
"He clearly doesn't know what he was talking about," Mr. Silber said. "He has no idea what has happened at our ballpark and really shouldn't be commenting on it.
"The field is fine. We're not sure why Mr. Rizzo made the comments he did, which were, really, very unfortunate. They certainly did not reflect the reality for us."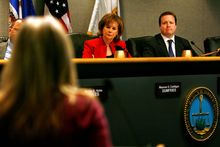 Five Nationals executives were in attendance July 14, Mr. Rizzo said, including assistant general manager Brian Minniti, farm director Doug Harris and vice president of player personnel Bob Boone. All agreed with Potomac manager Matt LeCroy, two officials from the visiting Kinston Indians and two umpires that the field was unplayable.
"We called Major League Baseball and the national association, and they felt it was unsafe to take the field," said Mr. Rizzo, who stood by his statement after being told in Houston of Mr. Silber's comments, "so that's why we postponed the game."
Mr. Silber maintained that the Washington officials on hand were acting at the behest of someone off-site and, in his view, everyone but Washington believed the field was playable.
If the field were deemed safe and Potomac refused to play, it would have forfeited the game. Instead, the doubleheader was postponed.
Mr. Rizzo's statement incensed Corey Stewart, chairman of the Prince William Board of County Supervisors. The county owns the stadium and is working with Mr. Silber on plans for a new facility.
"Rizzo ought to focus on doing his job, which could probably use some improvement," Mr. Stewart said, voice shaking. "He's talking out of his rear end. … He doesn't know what's happening because he didn't bother to check.
"Frankly, he's not a good manager. He's received a lot of criticism for his performance for the job he should be doing. He should stick to the job he's supposed to do instead of getting involved in something he doesn't know about."
Apprised of Mr. Stewart's reaction, Mr. Rizzo responded in a statement to The Washington Times: "I don't really understand Mr. Stewart's comments. My concerns with playing conditions at Prince William County's Pfitzner Stadium have related specifically to protecting our players and those of our opponents. I can't imagine he doesn't place the same value on player safety that I do, Major League Baseball does, the Carolina League does, and the Washington Nationals do."
Mr. Silber, 71, a retired bank executive, bought the Potomac team in 1990 and has been in constant discussions about building a new stadium since. He occasionally coaches first base during games, and the team's website touts him as the "Oldest First Base Coach in Minor League Baseball."
The stadium, built in 1984, is maintained by the Prince William County Parks Authority. Eleven of Potomac's dates have been postponed, canceled or moved this season. No other Carolina League team has had more than four such incidents. The Frederick Keys, for instance, have postponed three games, including one moved from Potomac.