The Walter Reed Army Medical Center has for more than a century helped soldiers stand on new legs, welcomed newborns into military families and offered top-notch care to U.S. leaders. But it only took a quick salute and several twists of gloved hands Wednesday to formally retire the hospital's maroon-and-white flag - signaling the end of an era for the storied, Washington-based military hospital.
The 102-year-old facility was order closed in 2005 by the Base Realignment and Closure Commission, with its operation to be split between the renamed Walter Reed National Military Medical Center in Bethesda and the Fort Belvoir Community Hospital in Fairfax County.
"It's been painfully difficult at times," said Maj. Gen. Carla Hawley-Bowland, commander of the medical center,as she addressed hundreds of former employees, patients and family members on the eastern lawn of the hospital. "But I could not be more confident with Walter Reed Army Medical Center. Walter Reed is not about bricks and mortar, Walter Reed is the people who provide care and compassion."
During August, thousands of employees and patients will make the move to Maryland and Virginia. Gen. Hawley-Bowland said the official transition deadline is Sept. 15.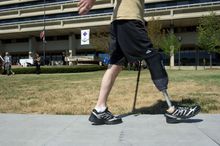 After the casing ceremony, Harvey Naranjo, the hospital's adaptive sports program coordinator, stood beside his therapy dog, a chocolate Labrador retriever named Deuce, and contemplated the move he'll be making in a few weeks.
"This is home for me," said Mr. Naranjo, who has been with the hospital for 10 years helping amputees and assisting soldiers with occupational therapy. "The ceremony was very moving. To see the colors, I didn't think it would hit me as hard as it did."
Six years of planning led to Wednesday's 90-minute ceremony.
The colors of a unit, in this case the medical center, are at the heart of its mission, and formally casing the old flags represents the ending of a mission, as those flags will not be unfurled again.
Under a white tent, soldiers in their dress whites and blues, pressed camouflage and crisp berets sat shoulder to shoulder.
The ceremony was considered an outdoor event, which meant hats could be worn and military courtesies were extended. But that didn't stop Secretary of the Army John McHugh from getting in a friendly rib at the Navy, saying the sailors would be spared no effort to be taught "what it's like on land," which they so kindly gave for the new Walter Reed on the grounds of the National Naval Medical Center in Bethesda.
The Walter Reed Hospital opened its doors May 1, 1909, with only a handful of patients and a few dozen beds. As two World Wars wounded thousands, the hospital grew to accommodate the injured, and later patients from the Vietnam and Middle East theaters to treat those whose injuries went much deeper than their skin.
American soldiers "lost their arms and limbs, but thanks to you they never lost themselves."" Mr. McHugh said during the ceremony.
Though the facility on Georgia Avenue includes 72 building across 172 acres in upper Northwest, "there's no room to expand to meet the changing needs," said Col. Norvell V. Coots, commander of the Walter Reed Health Care System.
The main health center in Bethesda covers roughly 1 million square feet, Col. Coots said, and will include more than 400 beds. Through August, the patients and employees at the D.C. location will transfer to one of the two health centers. On Friday, Gen. Hawley-Bowland will transfer leadership to Brig. Gen. Joseph Caravalho Jr.