As the economic recovery stalls and the debt debate in Washington fuels market uncertainty, business leaders — many of whom were once close to the White House — are increasingly airing their fears that President Obama's policies are stifling job creation.
Kimberly-Clark Corp. Chairman and CEO Thomas J. Falk told a Senate panel this week that the administration's proposal to raise the tax on foreign earnings of American-based firms "would put U.S. companies at a significant disadvantage."
The move "would slow economic growth in the U.S. and impede the creation of U.S.-based jobs," Mr. Falk, whose global company makes Kleenex, Huggies and health care products, said Wednesday at a hearing of the Senate Finance Committee.
Leaders in the oil and gas industry say the administration could clear the way for the creation of thousands of domestic jobs if it weren't beholden to environmentalists. As one example, they point to the proposed Keystone XL pipeline, a massive construction project that has been awaiting approval since Mr. Obama took office. The pipeline would run from Alberta, Canada, to Houston.
"If you're looking for revenue and jobs, it's on your desk, Mr. President," said Jack Gerard, president and CEO of the American Petroleum Institute, in a recent interview with The Washington Times.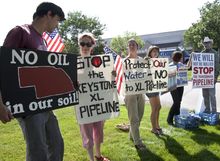 The House on Tuesday passed legislation requiring the Obama administration to reach a decision on the pipeline by Nov. 1. The White House issued a statement saying the House-imposed deadline is "unnecessary" and "could prevent the thorough consideration of complex issues."
The State Department is working to complete a review of the project next month; the EPA has raised concerns about oil spill risks and greenhouse gases from the use of oil sands.
Leading business groups, including the U.S. Chamber of Commerce and the National Association of Manufacturers, are in full-scale revolt against policies coming out of the National Labor Relations Board, now dominated by Obama appointees, in particular a clash in which the agency has sided with labor unions in seeking to prevent aerospace giant Boeing from opening a massive new, non-union manufacturing plant in South Carolina.
Even the president's attack on tax breaks for corporate jet owners has backfired. Unionized machinists, mayors in 10 cities and small business owners have rallied in opposition to Mr. Obama's plan to target the industry.
"These entrepreneurs would get hit with higher taxes at a time when they need such resources to survive, grow their businesses and hire more employees," said Karen Kerrigan, president and CEO of the Small Business and Entrepreneurship Council.
While the business community has traditionally leaned toward the Republicans, Mr. Obama was able to make significant inroads in his 2008 presidential race, besting GOP rival Sen. John McCain in contributions from such executives in such industries as finance, communications and real estate.
Business moguls who endorsed the Democrat included billionaire investors George Soros and Warren Buffett; Microsoft founder Bill Gates; and Eric Schmidt, chairman of Google.
The president has acknowledged getting off on the wrong foot with big business in the early days of his administration, and has taken steps to thaw that relationship.
He created a Jobs and Competitiveness Council headed by GE CEO Jeff Immelt and Ken Chenault, the head of American Express. He ordered a review aimed at cutting back on unnecessary regulations. And in January he hired William Daley, an executive at J.P. MorganChase and a former Commerce secretary, as his chief of staff.
Yet many top business leaders remain largely unmoved, judging from the unemployment rate that stands at 9.2 percent. Corporate leaders are sitting on about $2 trillion in capital, and gaming magnate Steve Wynn, a self-described "Democratic businessman," told investors two weeks ago that business leaders will be "sitting on their thumbs" until Mr. Obama leaves office.