The word of the day in financial markets: Anxious.
Stocks plunged early Friday after a dismal report on economic growth added to traders' fears that the U.S. might default on its debt. Major indexes erased about half of their losses by early afternoon after President BarackObama said there were many paths to a compromise on raising the country's borrowing limit.
If Congress fails agree to raise the debt limit, the U.S. might not be able to pay all of its bills after Tuesday. If the U.S. defaults on its debt it could wreak havoc on financial markets and the economy.
"I think there's a growing sense of resignation that we could go into technical default," said Jack Ablin, chief investment officer with Harris Private Bank. "There's certainly a heightened level of risk."
The combination of bad economic news and growing worries about a debt deal were evident in nearly every measure of investor confidence: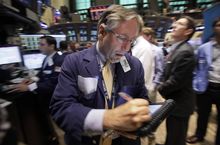 • The Dow Jones industrial average is headed for its sixth straight day of losses.
• Bond yields fell as more investors sought safer investments.
• The U.S. dollar fell against the Japanese yen and Swiss franc, which traders see as safer.
• Gold prices rose nearly 1 percent.
• The cost to protect against a U.S. default within the next year reached a record high. The cost to insure Treasurys for one year jumped 54 percent this week.
Many analysts continue to believe a deal is all but inevitable. They say the market's recent downturn is overwhelming strong corporate earnings reports and other reasons to believe the economy will bounce back in the second half of the year.
"It's definitely going to be a rocky couple of days," said John Canally, an economist with LPL Financial. "It's a very confusing time, but once this cloud lifts, market participants are going to turn around and say, 'This isn't so bad.'"
Canally said economic growth in the first half of 2011 was weighed down by temporary factors such as high fuel prices and the disasters in Japan. Export growth, higher corporate profits and better weather all suggest that the economy could turn around and lift stocks in the coming months, he said.
In early afternoon trading, the Standard & Poor's 500 index fell 3 points, or 0.2 percent, to 1,298. The Dow Jones industrial average dropped 63, or 0.5 percent, to 12,177. The Nasdaq composite index lost 3, or 0.1 percent, to 2,763.
The government reported early Friday that economic growth slowed in the first half of the year to its weakest pace since the recession ended two years ago. That overshadowed strong earnings news from Merck & Co. and Chevron Corp.