Joe Gibbs' stomach was rumbling when he emerged from the Washington Redskins coaches' meeting Saturday night, Oct. 3, 1987. He was, by his own admission, "kind of snarly anyway" because it was the night before a game against the division rival St. Louis Cardinals. On that occasion, however, Gibbs was even more anxious than usual.
In a few hours, he would lead a team of replacement players that had been cobbled together during the previous 10 days in the face of a strike by the NFL players union. Instead of Doug Williams to Art Monk, Gibbs was contemplating Ed Rubbert to Anthony Allen.
The remedy for Gibbs' pre-game angst was a critical part of his Saturday routine. A hamburger at the team's nighttime snack was comfort food. The Redskins were a veteran team back then with many players who could afford to eat out on their own. So while players usually noshed ice cream or some such treat before bed, there would be hamburgers left over when Gibbs straggled out of his meeting.
That night, though, all the penny-pinching replacement players turned snack time into a free meal.
"There wasn't a crumb left in the entire snack room," Gibbs recalled this week through his characteristic cackle. "It looked like the locust had hit the place. I turned to [assistant general manager] Bobby Mitchell and said: 'I WANT MY HAMBURGER!' And he took off running."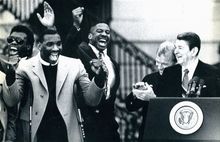 The Redskins' burger supply was just one of several team elements tested during that 24-day strike. Unity and leadership were others, as Redskins union members picketed outside team headquarters and RFK Stadium while replacement players from off the street took their jobs.
And although the use of replacements in 1987 resulted in some significant differences between that work stoppage and the current NFL lockout, the Redskins' survival and eventual Super Bowl title that year provide some lessons applicable to today's team.
"Especially in Washington, D.C., that was one of our goals, to stay solid, to stay as one," former Redskins guard R.C. Thielemann said. "You saw some of the stars that crossed the picket line in Dallas and other teams. It's tough to do, but we did it. I think in the long run that kind of stuff pays off. Football is a team thing, and it always has been."
Message of unity
On the morning of Sept. 21, 1987, players reported to Redskins Park to clean out their lockers. Before they left there and went to union representative Neal Olkewicz's house to vote on whether to strike, Gibbs gathered everyone for some parting words.
Former offensive tackle Joe Jacoby recently recalled Gibbs' message, which served as a mission statement of sorts when nerves inevitably frayed and tempers flared.
"Guys, whatever you all decide to do, do it together," Jacoby remembered. "Do it, everybody. If one crosses [the picket line], that breaks everything."
Players took that to heart. Gibbs had their ear after guiding them to the Super Bowl in two of the previous five seasons, including the championship after a strike-shortened 1982 campaign.
On the strike's first day, almost every player on the roster picketed outside team headquarters. Some wore sandwich boards and others held signs promoting the players' causes. At the core was their desire for a less restrictive free agency system.
"We needed the choice to work where we like, just like every American," Jacoby said. "We did not have that."