ANALYSIS/OPINION
Since Jack Nicklaus bestrode the earth, only one golfer has won more PGA Tour events than Phil Mickelson — some guy named Tiger Woods. Lefty's next victory will be his 40th, which would push him past Tom Watson and Gene Sarazen, pull him even with Cary Middlecoff and leave Walter Hagen (45) squarely in his headlights — with Billy Casper (51) just around the corner.
That's the company he keeps now — the residents of Legends Lane. Still, Mickelson's has been one of the stranger golf journeys. His accomplishments, though considerable, have been dwarfed by Woods, and he figures to be remembered as much for what he almost did as for what he did do. The man, after all, has almost won five U.S. Opens, finishing an agonizing second each time. Inasmuch as nobody has won more than four, well, just think of the history he's flirting with there.
CLICK HERE FOR PARKING INFORMATION (PDF)
He's at Congressional, of course, for the 2011 Open, trying to turn his 0-for-20 into a 1-for-21. (Heck, even Susan Lucci broke the Emmy ice in her 19th try.) And at 41 — his birthday is Thursday — he's very much the elder statesman now, constantly fielding questions about the state of American golf ("in good shape," despite increasing competition from Europe and elsewhere) and about prospects of whippersnappers, like Japan's Ryo Ishikawa, who are threatening to take over the game.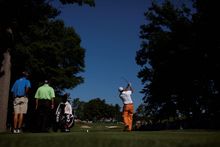 "A very complete player," Phil pronounced at his media gathering Tuesday. "And he's still only 20?"
"Nineteen," he was informed.
"Nineteen? Wow. So if he can hire a driver, he should be all set."
Even for a player of Mickelson's stature, being 41 puts you at the outer limits as a contender. Only six Open champs, after all, have been older — and only one, Hale Irwin (45 in 1990) has been much older. But Lefty will have none of that talk.
"I feel terrific," he said, "in that I'm more flexible and stronger than I've been in a long time. I've been able to handle or manage symptoms from the arthritis that I've had and have been able to work out. I feel like my golf swing, which is longer and a little bit more flowing — it's not quite as violent — has led me not having any injuries now at 41. And I've been fortunate in that regard. So I feel pretty good and feel like I should be able to compete for quite a while. I don't want to put any time pressure on my ability or belief in my ability to win."
Maybe he can compete a while longer. He won at Houston, you may have noticed, in April, and has finished in the money every time out this year. But it's hard not to look back achingly on what might have been. For those who haven't committed them to memory — or perhaps have blocked them out — here are the details of his five Open near misses:
• 1999, Pinehurst — Was headed to a playoff when Payne Stewart ran in a 15-footer on the 72nd hole to win it.
• 2002, Bethpage Black — Couldn't catch Tiger on the final day, but he did out-golf him (70 to 72).
• 2004, Shinnecock — Three-putted from 5 feet on 17 to hand the title to Retief Goosen.
• 2006, Winged Foot — His "I am such an idiot" moment. With a one-shot lead on the last hole, he sliced his drive near a hospitality tent, hit a branch with his next shot and buried himself in a bunker with his third. Double bogey.